Rezazadeh Back in Training
Hossein Rezazadeh told IronMind® that he has resumed training and has his eye set on the 2007 World Weightlifting Championships and the 2008 Olympics.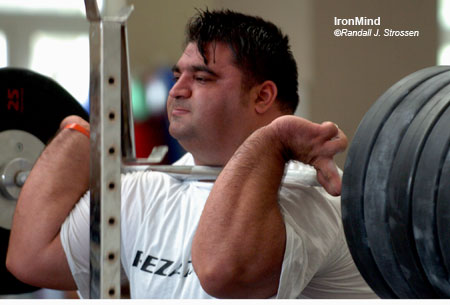 The front squat is a staple for Olympic-style weightlifters, and a good barometer of true leg strength. Think you have strong lower limbs? Guess how much Hossein Rezazdeh front squats after being back in training for just one month. IronMind® | Randall J. Strossen, Ph.D. photo.
Last year, the World Weightlifting Championships were in October, followed two months later by the Asian Games, so after his gold medal performances at both competitions, Hossein Rezazadeh took a well-deserved rest. Now, with just a month of training under his belt, the two-time Olympic gold medalist and IronMind®'s pick for the "King of the Jungle" crown is already front squatting 300 kg . . . no wonder this man holds all the weightlifting world records in the super heavyweight class. On the lifts themselves, Rezazadeh told IronMind® that he has gone up to 180 kg in the snatch and 230 kg in the clean and jerk.