Feeling lucky?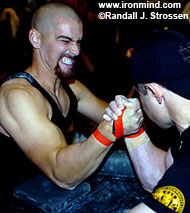 Devin Bair (left) and Simon Berriochoa (right), shown at the 2005 World Championships, will be at Reno Reunion VII, and then on their way to the Arnold. IronMind® | Randall J. Strossen photo.

Then head to Boomtown Casino and Hotel this weekend for Reno Reunion VII, featuring some of the biggest names in arm wrestling - many of whom will be competing at the Arnold in March.

The Boomtown Casino and Hotel is located on Interstate 80 west of Reno, Nevada, and there are special room rates available if you would like to stay overnight. The novice and pros pull on Saturday, and the amateurs and masters step up to the table on Sunday.

With over $12,000 in cash and prizes on the line, you can expect to see many of the sport's top names at Boomtown, and Armworld Promotions head honcho Bill Collins predicted that the one and only John Brzenk will compete in four or five classes, saying, "Come get a piece of me . . . if you dare to try."