Record Turnout at AOBS Dinner
Saddle Brook, New Jersey - There was a record turnout at the 22nd annual Association of Oldetime Barbell and Strongmen dinner tonight according to AOBS president Artie Drechsler.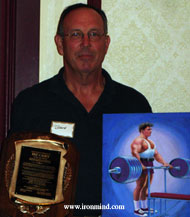 Bruce Wilhelm accepts the award honoring Pat Casey at tonight's AOBS dinner. IronMind® | Randall J. Strossen, Ph.D. photo.This yeat's honorees were Bob Hoffman, Pat Casey, Don Reinhoudt and Red Lerille, and the night before the banquet, weightlifting great Tommy Kono led a very popular seminar on the sport.

Longtime AOBS performer Slim "The Hammerman" Farman demonstrated his unique sledgehammer lifting after the dinner, and Pat Povilaitis and Bud Jeffries, in their debut at the AOBS, performed a number of feats of strength, which included Jeffries backlifting approximately 2400 pounds.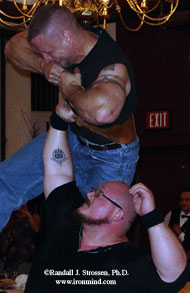 Bud Jeffries holds Pat Povilaitis aloft with one arm, while Pat bends a piece of steel. IronMind® | Randall J. Strossen, Ph.D. photo.