Record Attempts at the USA Weightlifting Nationals
Cleveland, Ohio - Natalie Woolfolk upped the ante at the USA Weightlifting National Championships today by taking two shots at the national record in the snatch.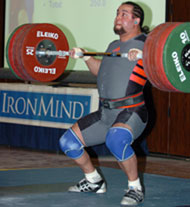 Robert Murphy going under his 200-kg clean, on his way to winning the men's 94-kg title. IronMind® | Randall J. Strossen, Ph.D. photo.

After an easy 92.5-kg opener, Woolfolk took two shots at 97.5 kg in the snatch, in an effort to break the US record, and although she missed both, she went on to clean and jerk 107.5 kg, for the victory in the women's 63-kg category.

2004 Olympian Chad Vaughn won the men's 85-kg class, with a 150-kg snatch and a 185-kg jerk. Vaughn cleaned 195 kg on his third attempt and although he went into a very deep split, he could not fix the bar overhead.

Danica Rue won the women's 69-kg category, and after snatching 95 kg, and then cleaning and jerking 120 kg on her opener, she went after the US record in the clean and jerk, attacking 125 twice, but she missed the jerk both times.

Robert Murphy snatched 155 kg, and cleaned and jerked 200 kg for the men's 94-kg title, holding off a determined charge by Jeff Wittmer, who snatched 145, opened with a good 185 in the clean and jerk, followed by another good lift with 195, and then managed to rack 202.5 but could not stand up with the weight.