Rafel Wilczynski Wins Giants Live - London Qualifier
London—The Giants Live–London qualifier was a powerful magnet at the ExCel Center today, drawing fans in as Rafel Wilczynski (Poland) won, after edging out Lauri Nami (Estonia) by one point.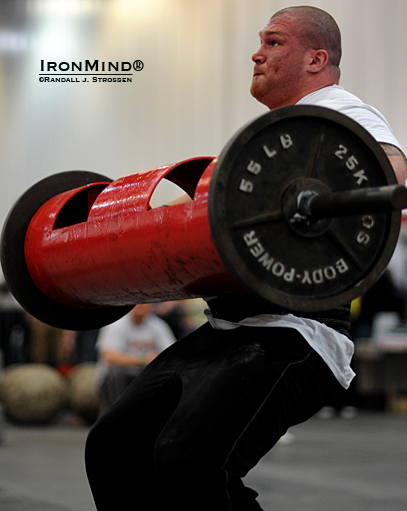 Making the Log Lift dynamic and nonstop, Rafel Wilczynski banged out 9 reps to win the event. IronMind® | Randall J. Strossen photo.


With the lure of the top three finishers in today's qualifiers being invited to compete tomorrow in Giants Live–London, a World's Strongest Man qualifier, the payout was huge. Gary Gardner (UK) was the third man to qualify.

Here are the top six final places and scores, officially.
| | | |
| --- | --- | --- |
| 1. | Rafael Wilczynski (Poland) | 14.0 |
| 2. | Lauri Nami (Estonia) | 15.0 |
| 3. | Gary Gardner (UK) | 18.0 |
| 4. | Jack McKintosh | 19.5 |
| 5. | Jay Hughes | 20.5 |
| 6. | Krzysztof Schabowski | 27.0 |
Describing the strategy of today's competition, Bryce told IronMind, "It was a juggling act. We had to test today's competitors, but not completely drain them for tomorrow. We didn't want to rip the skin off their hands."

Clearly a huge success, today's competition left Bryce saying he plans to build up this contest and next year will see it return even bigger and better. "It's about offering the golden ticket," Bryce said. "Prove yourself here, then at Giants Live, and you will be on your way to World's Strongest Man, the biggest contest in strongman."

Tomorrow, the ExCel Center features Giants Live–London, which will showcase the world's top strongman competitors as they battle it out for invitations to the World's Strongest Man contest later this year, and the action kicks off at 11:00 am with an assault on the strongman deadlift world record.
As an added bonus, Derek Poundstone, although injured and not able to compete, will be back again tomorrow, ready to sign autographs and say hi to his fans.

###


Want to talk strength or discuss this article? Join the IronMind Forum!

You can also follow IronMind on Twitter.