Radzikowski Returns to Competiton and Wins MHP SCL–Poland
Coming back from surgery, Krzysztof Radzikowski won the MHP Strongman Champions League–Poland competition last weekend, and SCL's Ilkka Kinnunen called the action for IronMind.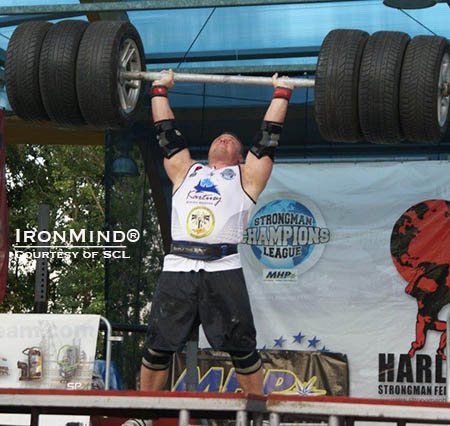 He's one of the top competitors on the professional strongman circuit so when Krzysztof Radzikowski returned to competition, his presence was felt: he won half the events, along with the overall title, at SCL Poland last weekend. IronMind® | Photo courtesy of SCL


Krzysztof Radzikowski wins MHP SCL Poland
by Ilkka Kinnunen
Director, Strongman Champions League

Krzysztof got injured last year at MHP SCL Malaysia. He competed at the beginning of the year but his injury was getting worse and he was operated on. After the operation, he was away for few months and came back in Croatia, taking third place—and now in his home country he hit the jackpot at the MHP SCL Poland contest.

Krzysztof won 3 events out of 6: Apollon's Axle 150 kg for reps; Forward Hold; and 185-kg Atlas Stone over the bar for reps. The other 3 events were Yoke Race 420-kg; Frame Walk 340-kg; and Weight for Height with 8 barrels for time.

The weather was very hot and sunny, around +40 Celsius, which made also a big challenge for the athletes. The competition was well organized, thanks for the Harlem Strongman organization.

Overall placings

1. Krzysztof Radzikowski
2. Martin Wildauer

3. Vidas Bleikatis

4. Grzegorz Szymański

5. Dainis Zageris

6. Rauno Heinla

7. Robert Cyrwus

8. Alex Moonen

9. Ole Martin Hansen

10. Antti Mourujärvi

11. Rob Frampton

12. Simon Johnston

30 August the SCL series continues in Hungary, so stay tuned for more news.

###

Want to talk strength? Join the IronMind Forum.

You can also follow IronMind on Twitter and on Facebook.