Radzikowski Breaks Viking Press World Record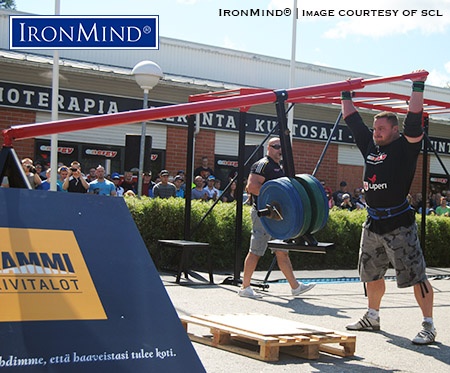 "Krzysztof Radzikowski hit a new world record in the Viking Press the weekend in Ylämylly, which is located in North Carelia, Finland," SCL cofounder Ilkka Kinnunen reported to IronMind.

"The Energy Training day included the North Carelia Strongest Man and Miss Energy Fitness competition. Close to 1000 people came out on the sunny day to cheer the athletes and of course to look one of the top strongman athletes in a world.

"In the North Carelia Strongest Man competition, the local strongmen competed a total of 5 events, including Farmer's Walk, Viking Press, Car Deadlift, Forward Hold and IronMind Sack Loading. The fitness ladies competed in Fitness Track which included tyres, monkey bars, tunnel, army wall, barriers, and AC wall.

Men: Top 3
    1.    Matti Lehikoinen 29
    2.    Juha Pekka Kettunen 28.5
    3.    Hannu Lankinen 28


Women: top 3
    1.    Ilona Saastamoinen
    2.    Tanja Sotikov
    3.    Veera Hiltunen


"Next year the plan is to make even bigger competition with top international athletes and television involved. Big thanks for all the sponsors who made the event possible," said Kinnunen.

                                                          ###



You can also follow IronMind on Twitter and on Facebook.

Want to talk strength?  Join the IronMind Forum.