Qui Versus Zhang for the Men's 62-kg Title
Doha, Qatar - Chinese teammates Qui Le and Zhang Ping were in a class by themselves in the men's 62-kg category tonight at the World Weightlifting Championships, and when the dust settled, Qiu walked out with the victory.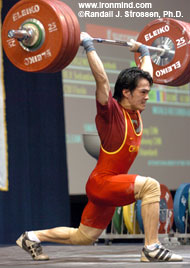 Splitting deep, Qiu Le capped off his victory in the 62-kg category with this sweet 176-kg clean and jerk. IronMind® | Randall J. Strossen, Ph.D. photo.

Always a contender in the snatch, Adrian Jigau (Romania) hit three good lifts to finish with 133 kg, which would end up giving him the bronze medal in the snatch. Qui opened with 135 kg, which he smoked, and Zhang followed with a good first attempt with the same weight, although he had to take a step forward to secure the lift overhead. Qui followed with very nice 141, Zhang blistered 142, and now it was third attempt time. Qui went first, made a very good 144, and with his gold medal target defined, Zhang called for and made 145.

For the top dogs, 166 kg was the opener of choice as Qui and Zhang both hit the weight on their first attempts, as did Cuban Rosales Curbelo (who had bombed in the snatch). Yang Sheng-hsiung (Taipei) took the same weight for his third attempt, had the lift passed, but then the jury turned it down on press out. Bulgarian Sevdalin Angelov (Minchev) called for 168 on his third attempt, and as he was getting ready to lift, he got psyched out, let go of the bar and stood up, jumped up and down a couple off times to get fired up, re-gripped the bar, and then only deadlifted it. Curbelo had 169 overhead on his second attempt, staggered around trying to save it, but couldn't. Zhang made a good second-attempt lift with 170 and Qui had a good second attempt with 171 kg.

Undaunted by his second-attempt miss, Curbelo took 171 kg on his third attempt, but once again, he missed the jerk. Zhang, going for first place in the jerk and the total, took 173 and although he got under the bar, he visibly shifted it up on his chest in the bottom position; then he gave a lesson in how to (not) oscillate the bar, and missed the jerk. Qiu, just to show who was the boss tonight, victory already in hand, made a really sweet lift with 178 kg to close out the class.