Queen Mary Highland Games: Southern California's Season Opens
Signaling the beginning of the 2012 Highland Games season in Southern California, "the Queen Mary Highland Games in California this weekend attracted more than 8,000 spectators over it two days," Francis Brebner reported to IronMind.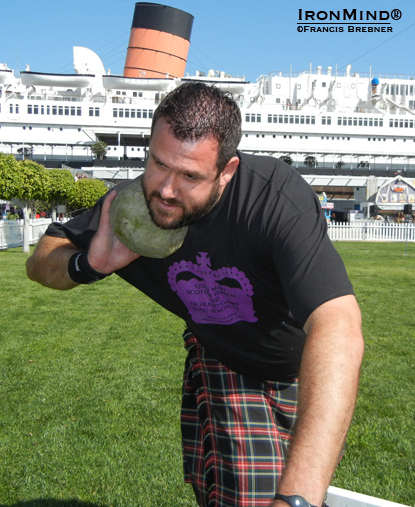 Jon O'Neil ruled the Amateur A division at the 2012 Queen Mary Highland Games. IronMind® | Photo courtesy of Francis Brebner.




Brebner said that over 100 athletes competed in the SAAA competition. "Newly appointed athletic director West Imboden who did a great work in his first appointed position as AD," Brebner said.

"The amateur A group division was won overall by Jon O'Neil, who had a clean sweep of all the traditional throwing events producing a solid all round performance.

"The first event was the 23-lb. Braemar standing stone putt and it was a great event to watch as Jon O'Neil and Jon Davis, both of whom have competed in two past Olympic trials for shot putting, went toe to toe, slugging it out, with the win finally going to Jon O'Neil with a distance of 44' 3", in second place was Davis with 43' 11".

"In the 16-lb. open stone it was O'Neil who pulled out a crushing putt of 53' 1" for the win over Jon Davis, who placed second with 50' 3-1/2" .

"Other highlights of the two day competition included Masters 70-plus Vern Alexander breaking two world records: The first being the 28-lb. weight for distance, breaking his old record of 45 '2" with a an amazing throw of 49' 7" , which stunned the rest of his throwing rivals, and the second record to tumble for Vern was the 16-lb. Sheaf, where the old record was held at 20' even and Vern went on to break this with a new World record of 20' 11".

"Asking Vern how he felt about establishing two new world records in one day he said, 'I feel great. I did not expect this with my first out of the Games season. I feel as the season progress and as I get more into the training and the swing of things, hopefully I will pull out some more big numbers in my category.'"

###



The IronMind Forum: discuss this article, talk strength, get help with your training.

You can also follow IronMind on Twitter.