Queen Mary Highland Games Opens the 2010 Season in California
The Queen Mary Highland Games opened the 2010 season in California and Francis Brebner filed this report with IronMind®.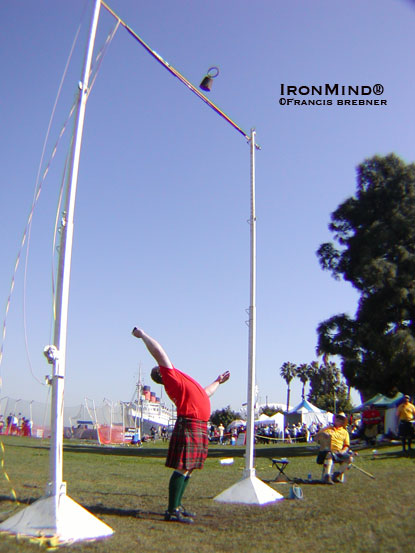 Ken Lowther made his debut as a masters competitor in the Highland Games, breaking the field record for the 42-lb. weight for height as he swept all eight events. IronMind® | Francis Brebner photo.


2010 Queen Mary Highland Games
by Francis Brebner

The 13th annual Queen Mary Highland Games in Long Beach, California attracted large crowds over the two days of festivities. The event was organized by Dave Garmen, president of the SAAA, who said that he was very pleased to see such a large turnout of entries between the masters, amateur and novice athletes competing in the first Games of the season, and also to witness such an increased standard of throwing, with most athletes improving their game considerably and setting PRs.

It was also good to see the return of former professional athlete Ken Lowther to the sport after a three-year absence, and now at the age of 42 he was competing in his first masters' competition and despite very little training, he made a clean sweep in all eight events and also established a new ground record at 18' in the 42-lb. weight over the bar, smashing the previous record of 16' 6" which was set in 2008 by Jeff Loosely, and just narrowly missing 18' 6" on extra attempts.

Lowther said that it is good to be back in the sport: "My hunger for competing is still there and I believe as the season progresses I can get my throwing numbers back up there, [especially] with my sights set on possibly qualifying for IHGF Pro Masters' World Championships in Belgium next year."

Results
Men's Group A Amateur
1. Jon O'Neil
2. Ian Connell
3. Brian Austin

Men's Group B Amateur
1. Jim Horrocks
2. Alex Noble
3. West Imboden, Joshua Hocieniec (equal)

Men's Group C Amateur
1. Jeffrey Balicki
2. Mark Scott
3. Gregory Brandy

Women's Amateur
1. Heather MacDonald
2. Dana Bailey
3. Michele Green

Novice
1. Roger Carrillo
2. Travis Everhart
3. Hunter Merriman

Masters' 40-49 Group
1. Ken Lowther
2. John McClure
3. Robert Bullock

Masters' 50+ Group
1. Daniel Valko
2. James Frazer
3. Steve Belanger

Masters' 60+ Group
1. Ray Oster
2. Vern Alexander
3. John Waugh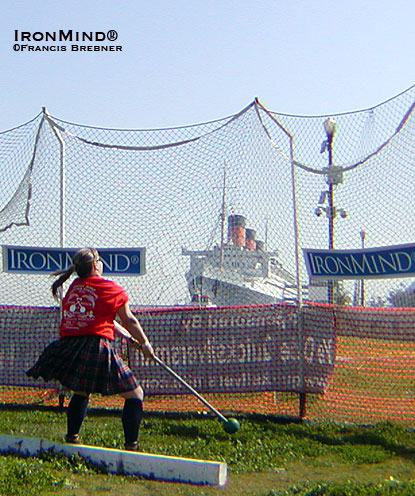 Michele Green winds up on the hammer, with the Queen Mary keeping an approving eye on the action. IronMind® | Francis Brebner photo.