Pudzianowski is Out and Gillingham is In at the Arnold
Terry Todd, Ph.D. just announced that Mariusz Pudzianowski has withdrawn from the Arnold Strongman contest and that Karl Gillingham will replace him in the all-star lineup.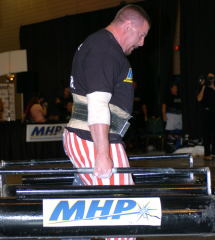 Karl Gillingham had a shining performance at the 2004 US Nationals (Atlanta, Georgia). IronMind® | Randall J. Strossen, Ph.D. photo.

Dr. Todd said that when he received word that Mariusz Pudzianowski would not be competing, he immediately got on the phone and reached Karl Gillingham, who said he had been training hard and would love to compete in the Arnold strongman event.

Mariusz, while not competing, reportedly will still be at the Arnold, so if you want to meet him in person, stop by the MetRx booth. And if you're a strongman fan, be sure to catch the Arnold Strongman contest - it's one of the top events of the year.