Prepare for The Labors of Hercules & Save $$$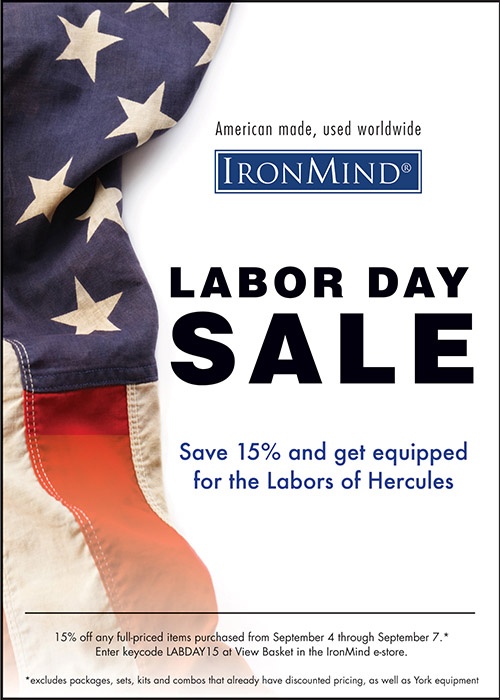 For more than a quarter century, IronMind has provided "Tools of the Trade to Serious Strength Athletes" and now's your chance to get the best strength training equipment on the planet and save money at the same time.



Maybe it's time to quit wasting time and money training in a commercial gym when you could work out at home: IronMind can set you up to squat, dip and chin just about anywhere, so if this the time for you make this move, consider IronMind Home Training Centers.

Tired of having a jellyfish handshake or maybe you're looking to ramp up from the Captains of Crush No. 1 gripper to the No. 2, or maybe think it's time to shake hands with Zenith grippers?
Back injuries keeping you from squatting with a bar? Meet the SUPER SQUATS Hip Belt—get the benefits of squatting, with zero load on your spine or lower back.

Get a 15% discount on full-priced IronMind equipment during our Labor Day Sale, September 4 – September 7, and save on the gym equipment and training gear that will help you boost your personal bests before the end of the year: Lifting straps, for example, are a small item that can make a big difference and as we say, If you're not using IronMind lifting straps, you're probably not lifting as much as you could be.

Maybe you've been eyeing a Rolling Thunder and now you can get one, and, talking about those might labors you are preparing for, don't forget about A Headstrap Fit For Hercules.

Use the keycode LABDAY15 at View Basket in the IronMind e-store.


                                                        ###



You can also follow IronMind on Twitter and on Facebook. 



Want to talk strength?  Join the IronMind Forum.