Pleasanton Power: CCSF Hosts Record-Setting Highland Games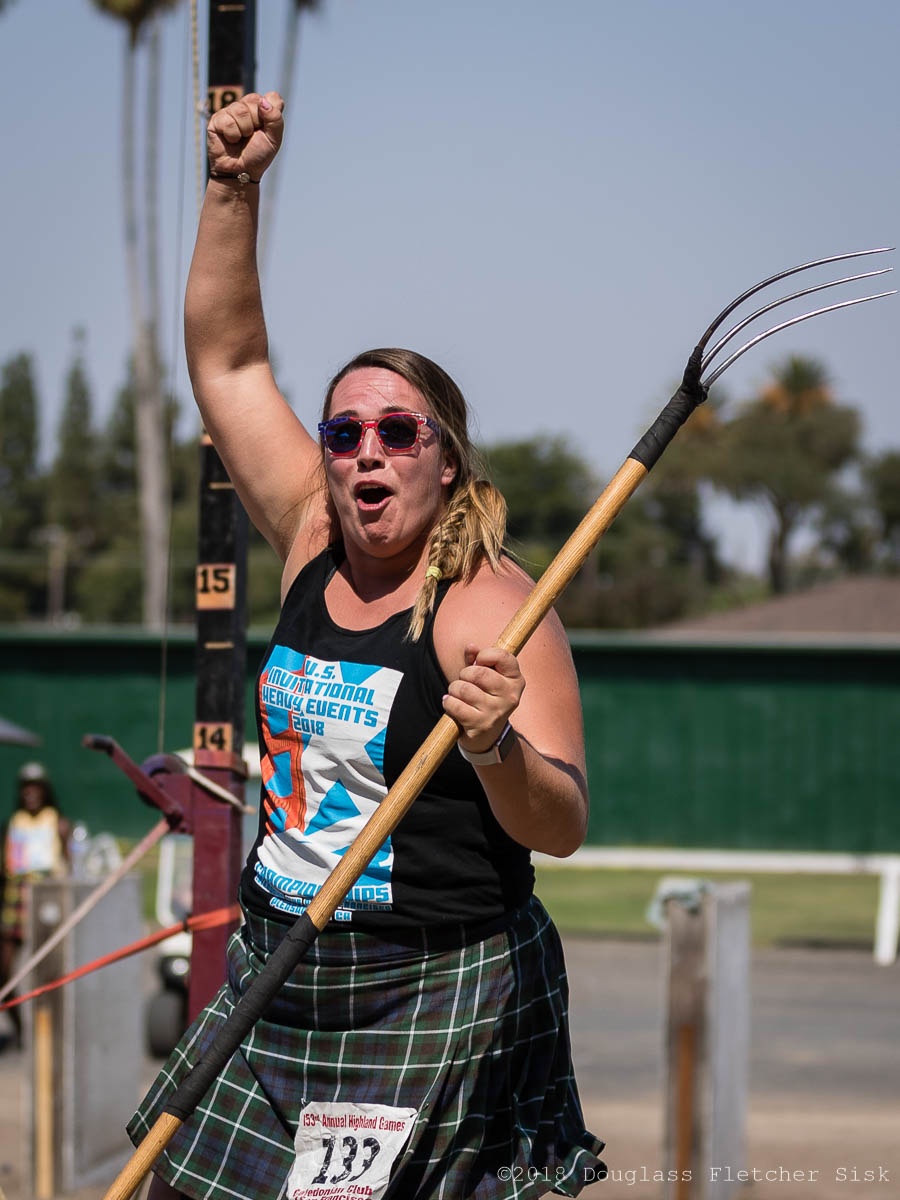 The Caledonian Club of San Francisco (CCSF) saw three world records set at its Highland Games in Pleasanton, California over the 2018 Labor Day weekend.

The 153rd Caledonian Club of San Francisco Highland Gathering and Games

by Steve Conway

Athletic Director, Caledonian Club of San Francisco

It was a beautiful weekend of slightly warm temperatures and blue skies in sharp contrast to last year's blistering heat, although the action on the field was certainly hot with four field records falling and two world records being set as well as a number of personal bests in all the classes.

The action in the men's pro class was close all the way through day one with Spencer Tyler holding a slim lead over Vlad Tulacek from the Czech Republic breathing down his neck, right on their heels was last minute entry Kyle Lilly from Arizona in his pro debut. As is typical to Pleasanton no one was running away with an easy victory, with this depth of talent you have to put in a consistently good effort in every event, or you're not going to make the podium. Day two remained the same with each athlete posting big numbers, it always seems to come down to the last event, the 28lbs. wt. for distance, this is where Spencer Tyler finally put the nail in the coffin with a field record of 92'8 ½", only 1 point separated second place finisher Tulacek from rookie pro Lilly. The icing on the cake for Spencer was an 18'6" field record in the weight over the bar.

The women's Elite class was another hotly contested run for the title of U.S. Champion. Interestingly, the winner in this group would be Olivia Tyler, wife of men's pro winner Spencer Tyler. She set two new field records in both hammers, breaking 2 of our oldest records both having been set by the legendary Shannon Hartnett. Only ½ of a point separated 2nd place finisher Meagan McKee from Nikita Marzano. Another big highlight in that class on Sunday was Jessica Bridenthal setting a new world record in the sheaf toss, which she did on a foot that she injured the day before—quite a gutsy performance.
As if that wasn't enough for Olivia, the winner of the title of U.S. Women's Champion was selected to receive the prestigious Chief's Trophy, a select award that is given every year to an outstanding games participant.

Olivia and Spencer Tyler are the only husband and wife to ever win both professional titles in the history of our games…well done!
The men's A class was dominated by newcomer Colin Dunbar, a giant of a man at 6'8" and 315 lbs., he had 6 first place finishes, once he figures out the caber it will be tough to stop him. He capped off his weekend with a new world record of 18'6" in the weight for height before an enthusiastic crowd. Rumor has it that Colin and new pro Gary Randolph are the recipients of some coaching tips by none other than Rob McKay, who coached the legend Ryan Vierra who is coaching second place finisher Eric Benjaran and has also coached Gary Randolph. Obviously, great coaching produces great throwers.

Men's masters 40-49 saw former Canadian pro Joel Thiesson take the win with a tie for second between Sean Smith and Mark Wechter. Mark wowed the Sunday audience with an epic 19' in the weight over the bar.

Men's masters 50-59 is still being controlled by stalwart Bill Stillwell, he was followed by new to Pleasanton Hans-Dieter Dorow from Germany and in third place Dennis Schultz.

Men's 60+ had Larry Sisseck reclaiming his former title from Steven Elliott last year's winner, following them in third place was Jim Walker.
Masters women also saw the return of a former champion, Mona Malec came back to Pleasanton after a few years absence and unseated 2017 champion Bethany Owen. Bethany took second by only one point over Katy Horgan.  

All in all it was an epic year of competition at Pleasanton, every year it seems the athletes get better and the contests get closer.
Capping off the two day competition was a special event by Hafthor Bjornsson, the World's Strongest Man also known as "The Mountain", a character that he plays on the popular series Game of Thrones. Before a packed grandstand of thousands of happy fans Thor set a new world record of 20'1" in the 56 lbs. weight for height event.

What a weekend!

                                               ###



You can also follow IronMind on Twitter, Instagram and on Facebook.                        



Want to talk grip, strongman, weightlifting . . . everything strength? Visit the IronMind Forum.