Pleasanton: Dan McKim Unstoppable, Hafthor Star Power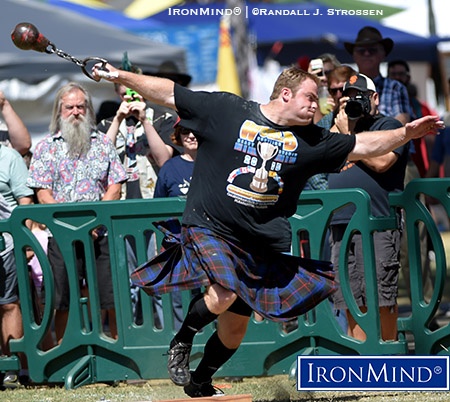 Dan McKim might not lead from start to finish, but once again he put himself in the right place at the right time and thus claimed the title at the 2105 World Heavy Events Championships, and Hafthor Julius Bjornsson lit up the crowd when he attacked 19' 4" in the 56-lb. weight for height.

 IronMind's Elizabeth Hammond called the action from the field—watch for a full report in MILO.



Dan McKim Prevails at 2015 World Heavy Events Championships
by Elizabeth Hammond

IronMind Enterprises, Inc.

Day two got off to an inauspicious start for Dan McKim as he dipped back into second place behind Matt Vincent after the open stone on the first of the final three events at the 2015 World Heavy Events Championships.

Dan McKim regained the lead after the heavy hammer and stayed there when he delivered a crushing performance on the 28-lb. weight for distance and earned the overall victory at the 2015 World Heavy Events Championships. 

It was a closely fought competition in which defending champion Vincent and McKim traded first and second places over the two-day contest, but even though McKim stubbed his toe on both the Braemar and open stones, he serenely shook off the missteps and took the title, with 19.5 points to Vincent's 22. Sebastian Wenta was third on 35 and Scott Rider fourth on 38. 



The U.S. Invitational Weight for Height Challenge, with guest star Hafthor Julius Bjornsson, was hugely exciting, with Hafthor and Mike Zolkiewicz both doing 17' and Hafthor nailing 18' and then taking three shots at 19' 4", attacking his world record of 19' 3"—none cleared but no matter because Hafthor only added to his luster as a human rocket launcher and to say that the crowd loved Hafthor would be an understatement. 





Sebastian Wenta added some luster to his third-place finish overall by winning the U.S. Invitational Caber Challenge. 



Hats off to the Caledonian Club of San Francisco for a stellar 150th anniversary celebration.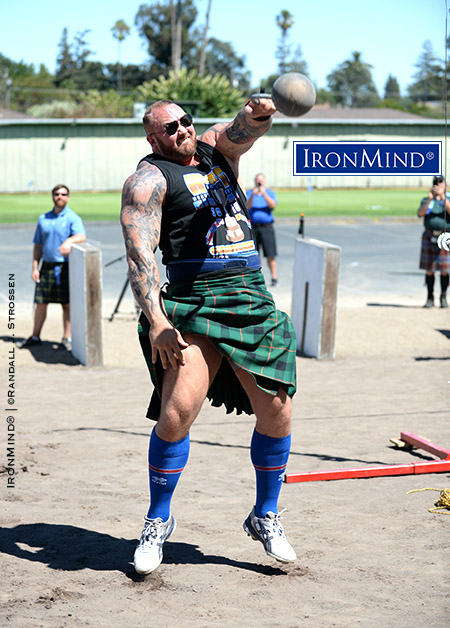 World's Strongest Man competitor and The Mountain on The Game of Thrones, Hafthor Julius Bjornsson was a people magnet in Pleasanton and he took a shot at a soaring 19' 4" in the 56-lb. weight for height. IronMind® | ©Randall J. Strossen photo


                                                      ###



You can also follow IronMind on Twitter and on Facebook.                        



Want to talk strength?  Join the IronMind Forum.