Pieter Bouma Wins the IHGF European Amateur Highland Games Championships
The inherent appeal of the Highland Games coupled with the IHGF's commitment to build the sport worldwide was apparent at the 2011 IHGF Amateur Highland Games Championships, which were held in Hungary won by Holland's Pieter Karst Bouma.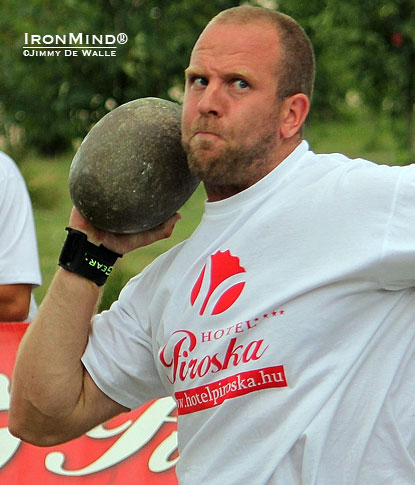 Pieter Karst Bouma (Holland) putting the stone, on his way to winning the 2011 IHGF European Amateur Highland Games Championships title over the weekend. Jimmy De Walle photo.


2011 IHGF European Amateur Highland Games Championships
By Francis Brebner

This past weekend's IHGF European Amateur Highland Games Championships was a huge success in Hungary. Adam Darazs, the president of the Hungarian Highland Games Federation in affiliation with the IHGF, put together a fantastic competition. Adam spared no expense when it came to looking after the athletes at the time of their arrival with five-star treatment, from the great setting and surroundings of the Hotel Piroska to the menu of endless food. Adam, who is considered by many to be one of the leading sports promoters in Europe, stages a staggering ninety-plus competitions and events a year, which has earned him the name of Godfather of Promoters.

The championships, set in the town of Buk in Hungary, attracted two thousand spectators, who were enthralled with this new cultural sport and could not get enough of it, it seemed, with their cheering and clapping throughout the competition. The entire championships was filmed and will be made into an hour show that will be aired in several European countries.

The contest had by far the biggest lineup of Europe's best amateur athletes assembled to date for any one amateur Games. It included heavy athletes from Hungary (Adam Darazs, Csaba Meszaros, and Robert Meszaros); Austria (Martin Schiller, Michael Wohlrab, and Robert Katzenbeisser); Germany (Daniel Dorow and Hans-Dieter Dorow; Ireland, Brian O'Meara); Scotland (Grant Sinclair); France (Amine Amroun); Holland (Peter Karst Bouma); Belgium (Jimmy van de Walle); Latvia, (Oskars Brugemanis); and Estonia (Tarmo Mitt, the well-known strongman).

The opening event with the 22-lb. Braemar stone, which carried the title of IHGF European Amateur Stone Putting Champion, was a very close competition between the top three athletes from the very first round. Darazs, Schiller, and van de Walle thrashed it out until the last round, when Darazs nailed the winning put of 34' 9-3/4"; second was Schiller with 34' 5-3/4" and third, van de Walle with 33' 10-1/4".

The 56-lb. weight over the bar was set at an opening height of 12'; from there it progressed to 14', and many dropped at this height, leaving only two athletes at 15' 9", a struggle between the Estonian Mitt and the Dutchman Bouma. It ended with Mitt snatching the win and also the European Weight Over-the-Bar Championships title, leaving Bouma in second at 15'. A tie for third at 14' 6" was between Brugemanis, C. Meszaros, and H-D. Dorow.

The caber toss, with a 17', 135-lb. implement, was also the IHGF European Amateur Caber Tossing Championships, and like a storm, the crowds cheered on the athletes throughout. It was won by Germany's D. Dorow in style, as he executed three successful attempts, with his best toss being 11:30. In second was Holland's Bouma with toss of 11:10 and in third place was Latvia's Brugemanis with a toss of 1:15.

In the 28-lb. weight for distance, Bouma triumphed with the distance of 73' 5". Brugemanis followed with 69' 5-3/4" and Schiller came in third with 65' 3".

The final event of the championships was the 16-lb. hammer, which was most fascinating as the points for the overall championships between Holland's Bouma and Latvia's Brugemanis were very close. The win in this event was claimed by Austria's Schiller with a throw of 103' 1-1/4", with Bouma in a very close second place at 102' 9", and D. Dorow in third at 98' 7-1/2".

Overall points:
| | | |
| --- | --- | --- |
| 1. | Pieter Karst Bouma | 69.0 |
| 2. | Oskars Brugemanis | 62.0 |
| 3. | Martin Schiller | 56.0 |
| 4. | Daniel Dorow | 54.5 |
| 5. | Jimmy van de Walle | 46.0 |
| 6. | Adam Darazs | 44.5 |
| 7. | Grant Sinclair | 42.5 |
| 8. | Hans-Dieter Dorow | 43.0 |
| 9. | Csaba Meszaros | 41.0 |
| 10. | Michael Wohlrab | 38.0 |
| 11. | Robert Meszaros | 36.0 |
| 12. | Tarmo Mitt | 26.0 |
| 13. | Robert Katzenbeisser | 17.0 |
| 14. | Amine Amroun | 15.5 |
| 15. | Brian O'Meara | 8.5 |
An extra event outside the competition was the 29-lb. Hungarian hammer, which sent sparks flying as the athletes went all out in this event, which came from an idea that originated from the Scots hammer, an amazing story that will be covered in a future article in MILO. The crowds were excited as the top three athletes sparred throw for throw—and then all three athletes surprisingly surpassed the Hungarian hammer world record. The victory was finally declared for Latvia's Brugemanis with his new world record distance of 79' 3-3/4". Second was Sinclair at 75' 11", and third, Schiller at 75' 10-1/2".

Brugemanis, on how he felt about establishing a new world record in the Hungarian hammer, said, "It feels great to have broken a world record. This sport of Highland Games I have a great passion for with all of the challenges it brings with the different disciplines. I now plan to only train for Highland Games in the future. This is a very competitive sport which requires technique and strength, but most of all I really enjoys this—it's fun."

Later in a one-on-one interview with the newly crowned IHGF European Amateur Highland Games champion, Peter Bouma said, "It has not sunk in yet—I just can't believe it. The competition was great, the athletes were well-rounded in all throwing events, and it all came down to the last event."

Asking Peter about his plans, he said, "My goal eventually is to reach the top as an amateur and turn pro in the future. I am so excited about being invited to compete in this year's IHGF World Amateur Highland Games Championships in Spokane, Washington, USA. I have firmly set my sights set on achieving this and will give it my best shot this year as winning this for me would be a dream come true."

Reflecting a moment on the IHGF and the growth of its affiliated countries within the last few years, there is no doubt that we are about to witness a tidal wave of Highland Games being established throughout the European countries. Just look at the amazing rise in popularity of Games alone in Hungary where this ancient sport has been warmly embraced by the Hungarian people. While in Hungary, talks between the IHGF and affiliated members Darazs and Vladislav Redkin took place, with very positive emphases on major IHGF Championships being hosted in Hungary and other parts of Europe in the near future.

The next event on the IHGF calendar will be in Dublin, Ireland, where the IHGF Ranking Clinic and Highland Games will be taking place at the NAAS Rugby Club on 9 July, where titles for the IHGF European hammer and weight-for-distance championships will be up for grabs. This event is being promoted by the IHGF representative for Ireland, Glen Ross.

###



The IronMind Forum: discuss this article, talk strength, get help with your training.

You can also follow IronMind on Twitter.