Pielieshenko Defends Title at the European Weightlifting Championships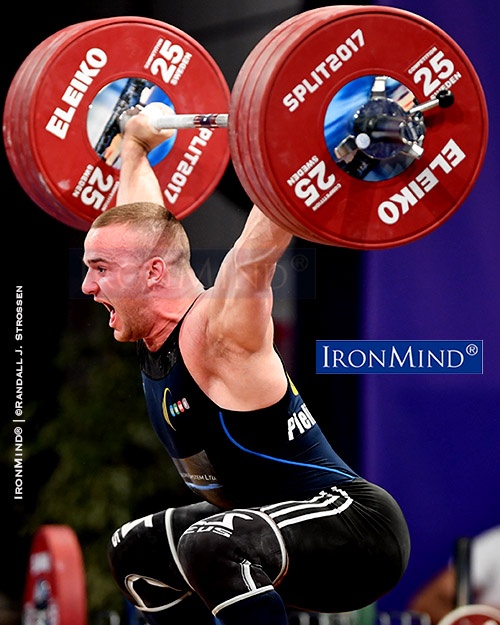 Split, Croatia—He got off to a rough start, missing his opening snatch, but it's where you finish that counts and Oleksandr Pielieshenko (Ukraine) left the European Weightlifting Championships as the 85-kg champion.



Ivan Markov (Bulgaria) was returning to competition, but it was not a good night for him as he bombed out with 168 kg in the snatch and then withdrew from the competition—it might have been a case of nerves as his warmups had been going very well, Yoto Yotov told IronMind. But on the competition platform, "He didn't have the power," Yotov said.

Pielieshenko wasted no time bouncing back from his miss, repeating with 170 kg in the snatch for a good lift on his second attempt, and then he made a nice 175-kg snatch on his third attempt, which put him 10 kg ahead of Artem Okulov (Russia) going into the clean and jerk.

Pielieshenko opened with a good 202-kg clean and jerk, and then he missed the jerk on 211 kg—he jerks with a very wide split that looks a little awkward—but then came back and made it on his third attempt.

Okulov had opened with 198 kg, for a good lift, followed by another good lift with 203 kg, and then he sat back, waiting to see where Pielieshenko finished, so that he could go for the gold medal in the clean and jerk. 

Calling for 212 kg, a 9-kg increase over his second attempt, Okulov polished off the lift for a nice finish to a class that had started off  as bloodbath, with more than half the snatches missed.

                                                                    ###



Follow IronMind on Twitter, Instagram and on Facebook.


Want to talk strength? Visit the IronMind Forum: Strongman, grip, Highland Games, Olympic lifting, stones and more.