Phevos and Athena: Three White Lights
Athens – Bringing in armloads of good feelings, the 2004 Olympic mascots came to the men's 62-kg weightlifting competition and were a huge hit: they danced, lifted and most of all, left everyone smiling at an Olympic level.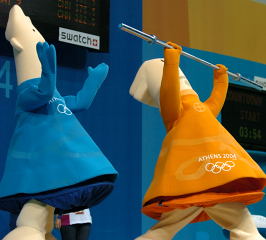 Phevos cheers as his sister, Athena, makes a good lift. IronMind® | Randall J. Strossen, Ph.D. photo.

Looking like Sesame Street characters, and just as endearing, the brother and sister mascots are named after the gods of light and music (Phevos) and wisdom (Athena), and they were chosen not just to portray such Olympic values as "participation, brotherhood, equality, cooperation and fair play," but also to remind everyone that there is great pleasure in enjoying what is an outgrowth of play.