Paul Ohl: "Fortissimus and Louis Cyr are One and Only"
"Former mayor's Dubé idea was to bring to a remote area a competition meant for local strongmen that would showcase old-time strength feats reminding the ones described in the biography of Louis Cyr, a then best seller in entire Québec," Paul Ohl told IronMind® - referring to Carl Dube of Notre-Dame-du-Rosaire, as well as to his (Ohl's) most-impressive biography of Louis Cyr.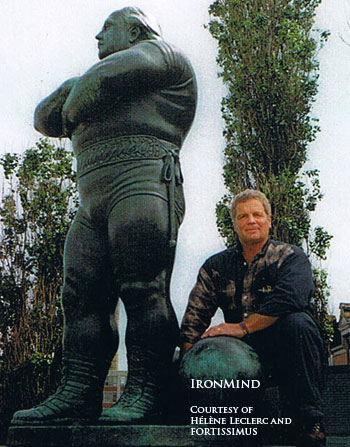 Paul Ohl and the statue of Louis Cyr. IronMind® | Photo by Hélène Leclerc.

"The resulting Fortissimus concept was of a quite different nature, although the Montmagny region always considered Carl Dubé as the initiator. So did I," continued Ohl.

"But the idea of honouring Louis Cyr's name by putting up a world-class strongman contest was first initiated in August 2003 with Dr. Douglas Edmunds, in Saint-Jean-de-Matha (the dwelling place of Louis Cyr between 1883 and 1912), during the 2003 Canada's Strongest Man contest, also called Louis Cyr National Challenge."

Clarifying his role, Paul said, "I was not enlisted as senior advisor. I was asked and then appointed as President of the Fortissimus competition both in 2008 and 2009, as they needed a public figure with media attraction capabilities to act as spokesman and take advantage of the contacts I had within the international strongman community.

"I was a member of the board of le Mondial de Force du Canada because they have insisted that I take that seat although I cautioned the chairman about possible conflict of interest. Not only votes were not unanimous over the 10 meetings or so, but most major issues were dealt with without any vote. I have sent more than 50 emails asking that the most crucial issues be dealt with properly. Until such time as it turned into a permanent managerial crisis. I had offered my resignation as soon as April 2009. As an example amongst many, the board was never asked to vote an official budget. I resigned officially on July 11, 2009," Ohl said.

"As early as September 2007, I fought to make Fortissimus an all-inclusive contest and wanted to include the IFSA athletes. Derek Poundstone and I stood for that principle. I negociated to the end with IFSA (Christian Fennell) in order to allow Savickas, Virastyuk, Koklyaev, Murumets and Katona to compete. IronMind®'s pulling power was a major input in the final outcome," Ohl said.

"I was and still am deeply concerned with the financial outcome of the 2009 venture. Especially due to the fact that more than $400,000 dollars CAN came from public funds. That including a $175,000 loan to make up for the 2008 deficit. A situation that has not been addressed by the Corporation nor explained to the population. This has to deal with accountability.

"That name [Fortissimus] may seem odd until fully explained. It was done extensively but shortcomings with memory do occur. That name was inspired from the inscription on the belt worn by Louis Cyr from 1889 to his death. It is now in Saint-Jean-de-Matha Louis Cyr's museum. The name needed to be registered so to maintain its historical legacy. I did so as I was researching while writing the biography.

"The hardcore of the registration deals with educational purposes and the promoting of Louis Cyr's name. So Fortissimus became a multimedia platform reaching out for all possible means of promoting Louis Cyr and the grass roots of strongman. The fact being that any trademark is linked with a minimum license fee in order to 'buy' the rights for a length of time. That was done with the corporation, assorted with conditions all related to Louis Cyr's name.

"Furthermore noted that all the incomes under Fortissimus' label were donated by me to the Montmagny organization. I did not collect the first penny of any promotional material with the exception of a % on the DVDs representing the expenses I put up as postproduction analyst.

"To point out that Fortissimus would be up for grabs on any bidding market is groundless and laid out with unfounded suspicions," Ohl continued, counter to what has been reported in the local press.

"Fortissimus, if it has to continue," said Ohl, "will not settle for anything less than what it has done from the strongman point of view. Neither will the concept be altered or the prize money reduced. Fortissimus will keep on flying high the colors of Louis Cyr, whose name will remain its primary symbol.

"That said, Fortissimus will be staged in a city that will be able to maintain, preferably increase the level of excellence that it commands. Hopefully, it will be Québec first!," Ohl said.