Pat Hellier Bags His 15th New Zealand Highland Games Title
One national title is pretty nice and a handful is quite exceptional, but how about Pat Hellier winning 15 New Zealand Highland Games Championships?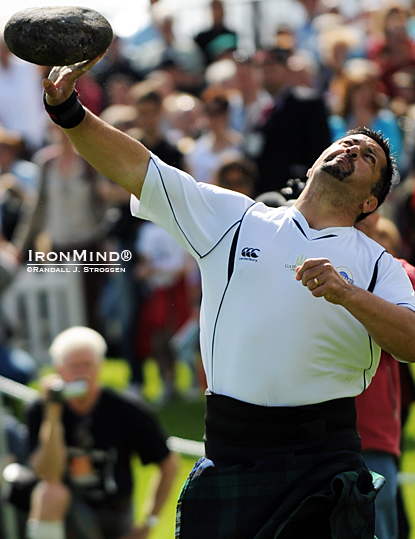 Pat Hellier on the Braemar stone at the 2009 Highland Games World Championships (Edinburgh, Scotland). IronMind® | Randall J. Strossen photo.


Craig Reid filed this report with IronMind.


Pat Hellier Wins 15th Straight New Zealand Heavyweight Highland Games Championships
By
Craig Reid


Pat Hellier has secured his 15th straight New Zealand Heavy Events Championships on the 1st January 2011.
 The Waipu Caledonian Society hosted their 140th straight Highland Games and gathering and a great day it was. A new group of young men competed in the emerging heavyweight competition with all doing exceptionally well. The novice class also saw strong competition with great first time performances. The winners and a number of the place getters being coached by Pat Hellier in the lead up to the games shows Pat's true love and spirit towards the games.

 In the New Zealand Heavyweight Championships, Pat easily won the day with performances just an inch or so short of his own records on a number of the events. 
Pat won the stone, hammers, weights, weight for height and took second on caber and sheaf.

The large crowd was enthralled by the performance of their favourite son and gave great encouragement to him and all the athletes throughout the event.

Overall the placing's were

1. Pat Hellier
2. Craig Reid (Aus)
3. Jono Macfarlane
4. Mick Cottrell
5. Reuben DeJong
6. Luke Reynolds (Aus)

The challenge strength event was held after the competition keeping the crowd on the edge of their seat. The record of 263 metres with the 65-kg weights was held by Ruben Dejong of New Zealand. Australia's big Luke Reynolds put in a huge effort and set a new record of 271 metres (890 ft). This record lasted for about five minutes before Ruben Dejong took it back with an all out walk of 278 metres (911 ft).

The Waipu Caledonian Society and officials have made the 140th gathering a great success and congratulations to the committee and to Pat Hellier who really is King in Waipu. 


###


Want to comment on this article or just want to talk strength? Join the IronMind Forum!

You can also follow IronMind on Twitter.