Oz Strongman Presents Perth's Strongest Man
Introducing Oz Strongman, which he bills as "the first Australian and New Zealand strongman federation," managing director Chris Andrews told IronMind®, "We have spent the last couple of years building a foundation of amateur and professional class athletes," noting that he followed the model established by the American Strongman Corporation (ASC).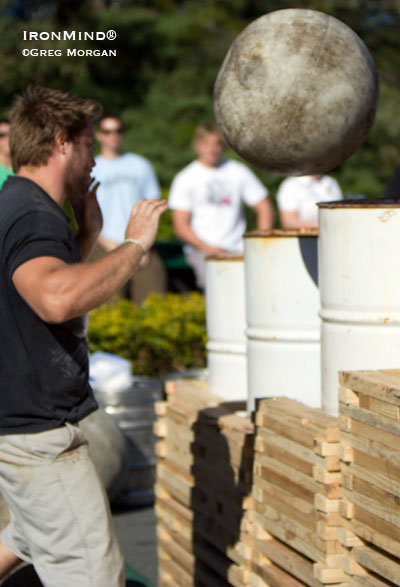 Ryan Phillips tosses an Atlas Stone. IronMind® | Greg Morgan photo.


Andrews is quick to praise ASC president Dione Wessels and to say his goal "is to help build a stronger unity in the global strongman environment."

"We currently are in the middle of our national strongman state championships: Brisbane (March), Perth (May) and one of our biggest events, 'Sydney's Strongest Man.' In this huge show we will have five of our best pro class athletes competing, and over 50 lightweight, middleweight and heavyweight amateurs competing. This will all finish up in December in our OZ Strongman National Amateur Championships 2009.

"Within the last 18 months we have brought over 200 athletes into the federation and [we are] growing rapidly. This is a very exciting time for us in Australia and New Zealand because the wonderful sport of strongman is going off and has been received well. We have representatives in Brisbane, Sydney, Melbourne, Perth and Auckland (NZ)."

And speaking of Perth, Andrews said, "The next show 'Perth's Strongest Man,' is being run by my Western Australian manager, who is an OZ Strongman pro class athlete, Big Matt van Beuningen." Andrews said the competition is set for May 16, and the categories include amateurs, heavyweight and lightweight classes. The events are farmer's walk, car deadlift, Atlas stones, log lift, super yoke and a medley.

"Our top athletes so far in the series are Marc Wells and Mike Jones in the heavies and the amazing Ryan Phillips (current national champion) in the 105-kg class: Ryan doesn't lift the Atlas stones - he makes them fly. In the 90-kg class, Scott Hipwell, Rabie Chehade and Matt Jackson are extremely fast competitors and have to be seen to be believed. Plus newcomer Joel Malone in the 105-kg class has proved to be a serious contender.

"Highlights so far in the series include Big Alan 'The Monster' Kliese doing a 780-lb. super yoke in 11 seconds. Alan is set to become the new face for Australia in the international strongman world; his performances and achievements so far are nothing short of amazing, with a 385-lb. log lift and rising, plus a 375-lb. farmer's walk completed, and 12 reps on the Arnold Classic 92-kg Monster Dumbbell. He has what it takes to take on the best. With his sights on the Fortissimus and the Arnold Classic in the near future, he will do Australia proud."