Omid Amiri: Farzad Mousakhani Ready for Dubai
Omid Amiri, ISA and ASA president, told IronMind® today that Farzad Mousakhani, the leading Iranian strongman, will be competing in Dubai at the next Strongman Champions League competition.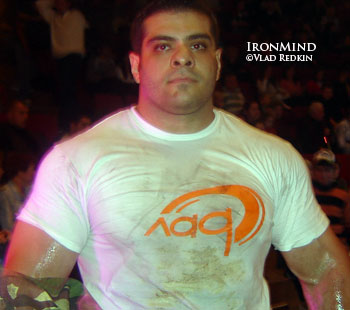 Farzad Mousakhani debuted at Vlad Redkin's competition in Minsk last year, where he was quite a sensation, and he was off to a very strong start at the kickoff for the Strongman Champions League in Riga a couple of weeks ago, but was injured on the second event. Watch for Farzad Mousakhani to return for the next stage of the Strongman Champions League, in Dubai on May 20. IronMind® | Photo courtesy of Vlad Redkin.

The Strongman Champions League is the result of Ilkka Kinnunen and Marcel Mostert's combined efforts, and its aim is to provide the sport of strongman and its fans "a new episode in strongman." The Mostert–Kinnunen team made good on its word with a huge opening in Riga, Latvia, which also marked the much anticipated return of Farzad Mousakhani after his very promising debut at Vlad Redkin's contest in Minsk late last year. "I think we find new Iranian star - Farzad Mousakhani," Redkin had reported to IronMind, and since then, there was a real eagerness to see Farzad Mousakhani back in action.

Farzad Mousakhani, unfortunately, was injured early on in Riga, but from what he saw, Marcel Mostert told IronMind® that he was impressed - which means a lot, considering Marcel Mostert's formidable credentials in the field.

Omid Amiri told IronMind® that Farzad Mousakhani had an MRI performed when he returned to Iran from the Strongman Champions League event in Riga, and he is planning to be ready for the rest of the Strongman Champions League, including the upcoming contest in Dubai.

Brimming with confidence about Farzad Mousakhani, Omid Amiri told IronMind® that, "If he have not any problem, I know that he can take [would have taken] first or second place in Riga."