Wroclaw, Poland—The men's took their first turn on stage at the World Weightlifting Championships with the 56-kg class setting up to be a battle between 2008 Olympic gold medalist Long Qingquan (China) and 2012 Olympic Champions Om Yun Chol (North Korea), with the two Vietnamese lifters, Thach Kim Tuan and Tran Le Quoc Toan also figuring to be in the hunt for medals.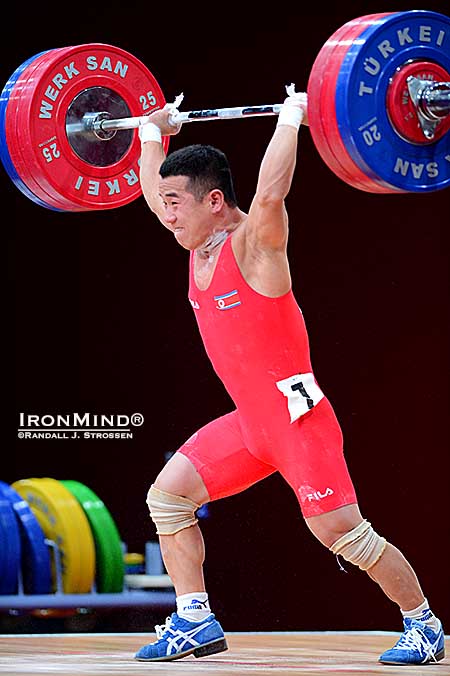 Om Yun Chol was recovering with this 170-kg clean and jerk when his left arm collapsed. IronMind® | Randall J. Strossen photo


Long Quingquan won the gold medal in the snatch with 130 kg—OM Yun Chol took 130 on his third attempt, but missed it, settling for the silver medal with his good second attempt lift of 127 kg. Thach Le Quoc Tran edged his teammate by one kilo, to get the bronze medal with 127 kg.

All of this was a prelude to the real battle, which would take place in the form of the clean and jerk as Om Yun Chol is the world record holder and he was listed on the board with a 165-kg opener.

Thach Kim Tuan ran through three good lifts and ended with 157 kg. Long had made this same weight on his second attempt, and was lighter. Om Yun Chol opened with 162 kg, which would put him in first place in both the jerk and the total and made the strongest lift we'd seen in several attempts. Long took 163 kg on his third attempt, in a bid to move back into gold medal position in the jerk and in the total: he cleaned the weight, rammed the bar overhead, but could not lock it out and was driven to the platform trying to save the jerk.

Om Yun Chol, gold medals in the jerk and total in hand, called for 170 kg on his second attempt—attacking his world record in the jerk. He made a strong lift, had the bar overhead and was recovering when he collapsed on the platform and holding his left elbow, which we were told, unofficially, was dislocated.

###



Visit the IronMind Forum: talk strength, discuss this story. Strongman, grip, Highland Games, Olympic lifting, stones and more.

You can also follow IronMind on Twitter and on Facebook.