Olympic Weightlifting: Behdad Salimi Wins the Supers
London—Coming into the Olympics, it was almost accepted as a foregone conclusion that Behdad Salimi (Iran) would win the superheavyweight category in weightlifting and on his first clean and jerk, that's what he did.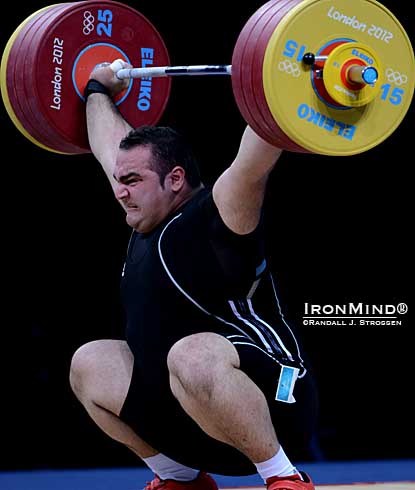 Behdad Salimi nailed this 208-kg snatch on his third attempt. IronMind® | Randall J. Strossen photo.


While few doubted Salimi's supremacy and his teammate, Sajjad Anoushiravani was seen also seen as a near-lock for the silver medal, there was little buzz surrounding Ruslan Albegov (Russia) who had the potential to be a big surprise.

Salimi nailed three good snatches, to end with 208 kg, which put him four kilos ahead of Anoushiravani and equal to Albegov, but heavier, going into the clean and jerks.

Anoushiravani was first out, with 237 kg, for a good lift, and Albegov took 240 kg for his opener—he had to work a little to stand up, but then he punched the jerk overhead. To knock off the Iranian pair, he'd have to come up with a big clean and jerk and it wasn't looking likely at this point. Anoushiravani hit 245 kg on his second attempt and Albegov took the same weight, to move ahead of him, but he missed the jerk.

Jeon Sang-Guen (South Korea) opened with 246 kg, eying third place, but he wasn't able to rack the weight, although he repeated and made it. Salimi followed with 247 kg on his first attempt and that was all he needed to secure the Olympic gold medal, as Albegov narrowly missed the jerk on 247 kg on his third attempt and Anoushiravani only deadlifted 251 kg on his third attempt.

In the spirit of Korean weightlifters, Jeon Sang-Guen called for a massive 259 kg on his final attempt, trying to move from fourth to third, but he couldn't rack the bar.

With great fanfare, Salimi, gold medal in hand, called for 264 kg—which would be good for a new Olympic and world record in the clean and jerk—but, as has become a familiar sight when he stands over anything in the 260-kg range, he only deadlifted it, and then he passed on his third attempt, but his 455-kg total understated what he probably could have totaled if necessary. Anoushiravani totaled 449 kg and Albegov was one kilo back, at 448.



###



Visit the IronMind Forum: talk strength, discuss this story. Strongman, grip, Highland Games, Olympic lifting, stones and more.

You can also follow IronMind on Twitter.