Olympic Champion Liao Hui Wins the 69-kg Category at the World Weightlifting Championships
Goyang, Korea - China's Liao Hui was never really pushed tonight as he easily won the 69-kg category at the World Weightlifting Championship.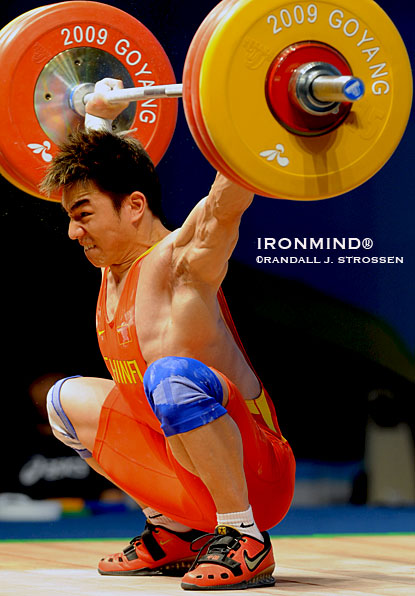 Liao Hui stuck this 160-kg snatch on his second attempt at the World Weightlifting Championships in Goyang, Korea tonight. IronMind® | Randall J. Strossen photo.


It was expected to be a battle for silver and bronze medals tonight, as Liao Hui has been on a winning streak: He got the gold medal at the 2008 Olympics with a 348-kg total, a 10-kg lead over silver medalist Vencelas Dabaya (France). How about putting another 10 kg on that total? That's what he did at the recent Chinese National Championships, so he looked to be ready to have things his way.
Liao Hui ripped through 155 kg and then 160 kg in the snatch, before sending 166 kg up and over his head on his third attempt. Ninel Miculescu (Romania) got the bronze with 155 kg, a lift he celebrated with gusto, and Arakel Mirzoyan - the 2009 European champion - was just behind, with 154 kg. Not the best on the snatch, Dabaya needed to cut his losses, knowing that his strong clean and jerk could make up considerable ground, and he made solid lifts with 146 kg and 149 kg, before missing 152 behind.

Kim Sun-Bae (Korea), like Dabaya, needed to move up on the clean and jerk and he did - ending up with 181 kg for the silver medal in the jerk, and fifth in the total. Indonesia's Triyatno had been fourth in the snatch, with 150 kg, just ahead of Dabaya, and even though he only made his opening clean and jerk, 180 kg, that gave him a pair of bronze medals because, after three strong cleans, Dabaya had sent 185 kg over his head, backwards, each time.

Liao had an elbow touch on 186 kg, not the way he wanted to start, but his reaction showed that it was nothing he was too worried about, and when he repeated with the weight, he was in complete command of the lift. He passed on his third attempt.

Earlier, in the women's 53-kg class, 16-year-old Zulfiya Chinshanlo (Kazakhstan) was extremely impressive: her 90-kg snatch was good for fifth place, but the 115-kg she had listed as her opener in the clean and jerk had not gone unnoticed. No bluff, she ended up opening with 120 kg, moved to 125 kg, followed by 129 kg - knocking off each lift as if it were completely routine.