Oleg Chen Rules the Roost
Tel Aviv—It was predicted that Oleg Chen (Russia) would dominate the men's 69-kg class at the 2014 European Championships and that there would be a fierce battle for the other places on the podium.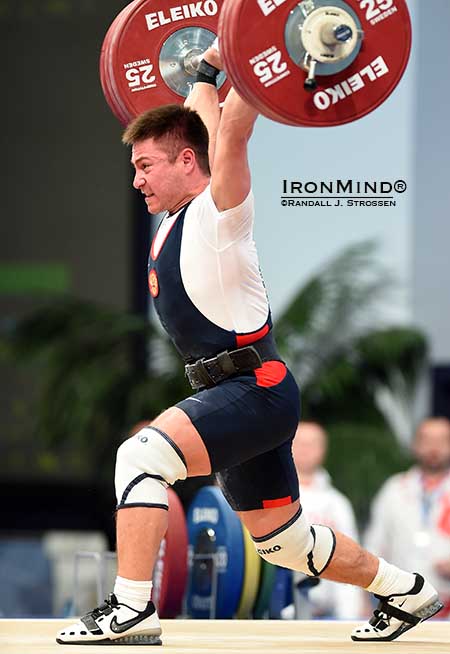 Oleg Chen (Russia) jerked 176 kg to complete his gold medal sweep in the men's 69-kg class. IronMind® | Randall J. Strossen photo




The lifting followed this script as the defending European Weightlifting champion won the snatch by 8 kg, and two lifters tied at 143 kg, with Serghei Chechir (Moldavia) edging Feliks Khalibekov (Russia) on bodyweight, and Florin Bejenariu (Romania) was close on their heels at 142 kg.

The close competition for what would prove to be the silver and bronze medals in the jerk and total continued as Vanik Avetisyan (Armenia) took the silver medal in the clean and jerk with 175 kg, and Chechir beat Khalibekov for the bronze on bodyweight as both men jerked 172 kg. Chen took the last attempt in the class, jerking 176 kg for the gold medal in both the jerk and the total.

Three lifters, 12 kg in arrears of Chen, totaled 315 kg: Avetisyan was the lightest, so he got the silver medal, Chechir got the bronze, and Khalibekov was probably left wondering what he should not have eaten that cost him a medal.

###



Visit the IronMind Forum: talk strength, discuss this story. Strongman, grip, Highland Games, Olympic lifting, stones and more.

You can also follow IronMind on Twitter and on Facebook.