Whether you're a bodybuilding fan or not, there's plenty going on at the Mr. Olympia contest this weekend, and for all you grip guys, be sure to check out the GNC Gillingham Grip Gauntlet.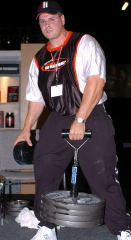 Making it look easy at the GNC Show of Strength, Wade Gillingham toys with a Blob in his right hand and a Rolling Thunder loaded to 187 pounds in his left hand. IronMind® | Randall J. Strossen, Ph.D. photo.
Featuring the benchmark feats of hand strength, the GNC Gillingham Gauntlet gives everyone a crack at a Blob (to test their pinch grip), an IronMind® Rolling Thunder® loaded to 212 pounds (to test their supporting grip), and a No. 3 Captains of Crush® gripper (to test their crushing grip).

Any one of these world famous tests of grip strength is more than enough to stop most mortals and almost nobody can do all three.

Wade Gillingham marches through these three feats of hand strength and his performances on the Blob are dazzling, but what else would you expect from a guy who just finished off a workout with five single on the Blob loaded with an additional 20 pounds!

Whether you're a grip specialist or just want to have some fun, be sure to stop by the GNC booth at the Mr. O and give the GNC Gillingham Grip Gauntlet a try.