Odd Haugen Strongman Wild Card Drawing Today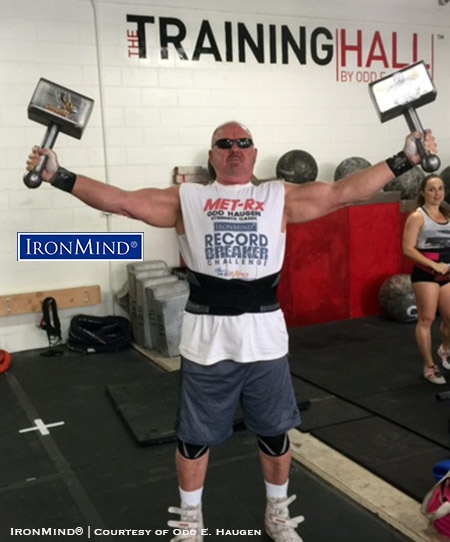 Odd Haugen is known for have heavy strongman events and he's also know for introducing twists and turns that add to the competition: today at 5 pm PST he will have a live drawing for three wild card events for his strongman contest at this weekend's LA FitExpo.
 
"Here is the live link to see the drawing of the three Wild Card events.

1-WILD CARD OVERHEAD (Discipline II Saturday):
One of the following disciplines will be randomly drawn :
(i) Log Lift for reps with ~140kg/308lb (ii)Block lift medley (105kg, 115kg, 125kg, 135, 145kg) (iii)Log Press (clean once) for reps with 160kg/351lb (iv)Dumbbell Lift for reps 100kg/220lb (v)The IRON GRIP® Odd Haugen Challenge Dumbbell Medley.

2-WILD CARD DEADLIFT (Discipline IX Sunday):
One of the following disciplines will be randomly drawn: (i)Strongman Deadlift Last Man Standing opening weight 300kg/660lb (straps allowed), increase 20kg thereafter (ii)Louis Cyr Barbell for reps increasing weight, starting 300kg increasing 20kg (iii) Viking Fishing Pole Deadlift Last Man Standing stating weight in hand 450lb increase by 50lbs (iv)Axle and Wheels Deadlift for reps with 320kg/705lb (v)Deadlift Medley (TBD).

3-WILD CARD LOADING MEDLEY (Discipline X Sunday)
One of the following disciplines will be randomly drawn: (i)Stones of Strength, load 5 stones weighing from 250 pounds to 430 pounds onto IFSA rings of various heights (ii)Natural Stones, load 5 natural stones to boxes of various height (iii)Odd Objects, load various objects (log, sand bag, stones, blocks etc.) to boxes of various heights (iv)Sand Bags, carry and load 4 sand bags progressively heavier, 60 feet, 45 feet , 30 feet and 15 feet (v)Blocks, carry and load 5 aluminum blocks from 230lb to 320lb, 60 feet, 50 feet, 40 feet, 30 feet and 20feet.
You must create an account with "Live Stream" in order for you to watch it."

                                                      ###

You can also follow IronMind on Twitter and on Facebook.                        



Want to talk strength?  Join the IronMind Forum.