Norway's Strongest Woman/Strongest Man
Kristiansand hosted the 2012 Norway's Strongest Man –90 kg and and –105 kg, and Norway's Strongest Woman (open), with a field of nearly 50 competitors vying for the titles, co-organizer Per Andrew Lier reported to IronMind.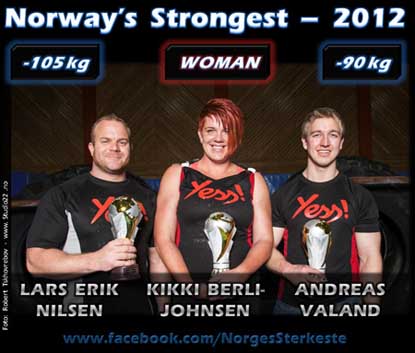 Broadening the traditional strongman base to include women as well as a 90-kg and a 105-kg class for men, the 2012 edition of Norway's Strongest Man was a big hit. Here are the winners (left to right): Lars Erik Nilsen, Kikki Berli-Johnsen and Andreas Valand. IronMind® | Robert Tskhovrebov photo.

"It was the seventh year in a row that these national championship have been held, but the first that we also arranged Norway's Strongest Woman," Lier said.

Lars Erik Nilsen won the -105 kg class, with performances that included deadlifting 220 kg for 15 reps within the one-minute time limit. Bjørnar Kvernstuen was second and Jon Einar Hauglan was third.

Andreas Valand won the –90 kg class (and he did 14 reps on the 220-kg deadlift). Stian L. Thue was second and Tim Enersen was third.


44-year young Kikki Berli-Johnsen edged out Renate Loraas by one-half point to win the women's class and Janne Grandalen-Flo was third. By virtue of her win, Berli-Johnsen earned an invitation tho the United Strongmen Women's World Championships. 

### 



The IronMind Forum: discuss this article, talk strength, get help with your training.

You can also follow IronMind on Twitter.