Norway's Strongest Man: Strongman and More
Under the watchful and inspiring eye of Svend "Viking" Karlsen, a couple of dozen huskies will be vying for the strongman title of Norway's Strongest Man in Oslo's Telenor Arena on May 21.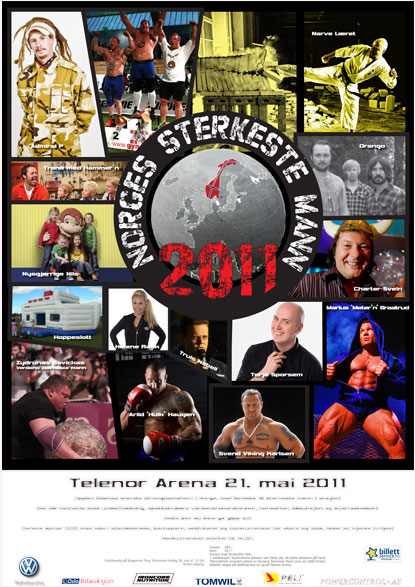 Not just strongman, there will be entertainment for the kids and performers from comedians to musicians on hand when Norway's Strongest Man comes to Oslo on May 21. IronMind® | Courtesy of Svend Karlsen.


Defending champion Rickard Skog is recovering from an injury so he will not be in the field but on May 20 in Svend Karlsen's hometown, Brammen, a three-event qualifier will be held: Apollon's Axle for reps, Farmer's Walk, Tire Flip.

Those who survive the cut will be in the televised final the following day, in Oslo, with these events:

• Truck Pull
• Log Lift (reps)
• Farmer's Walk (suitcases)
• Stones
• Wheelbarrow Loading

With 2001 World's Strongest Man winner Svend Karlsen calling the action and Arild Haugen working as a referee, the atmosphere will bring out the best and along with the title of Norway's Strongest Man, Karlsen told IronMind that the winner leaves with a guaranteed invitations to the 2011 World's Strongest Man contest.

If that's not enough, Zydrunas Savickas will be taking a shot at his own world record in the log lift, so if you're a strongman fan and can be in Oslo that weekend, you know where to go.

###

The IronMind Forum: discuss this article, talk strength, get help with your training.

You can also follow IronMind on Twitter.