This weekend, many of the top names in armwrestling were locking up at the Black Bear Saloon in South Norwalk, Connecticut.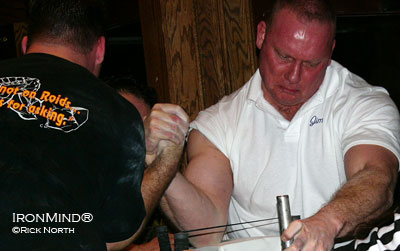 Jim Bryan (right) and Tom Nelson (left) were among the top pullers at this weekend's Northeast Challenge V. IronMind® | Rick "Lummox" North photo.


"Pullers from 11 states and parts of Canada were on hand to take part in what would be an incredible gathering of talent," reported Rick "Lummox" North. "One look around the room was a who's who in the sport of armwrestling."

Challenge match winners were Luke Eldridge, Ron Klemba, Dennis Dubriel and Marcio Barbosa (left handed); and Nick Zinna, Allen Stilkey, Ron Klemba and Joyce King (right handed). Tournament winners (right/left) were: Harold Ryder/Harold Ryder at 165 pounds; Bill Sinks/Mike Selaris at 198 pounds; Jim Bryan/Tom Nelson at 242 pounds; and Don Underwood/Tom Nelson +242 pounds.