North America's Strongest Man: Christian Savoie in the Lead
The North America's Strongest Man contest began today and IronMind® has a report from Dr. Sam Dubé, who is on the scene.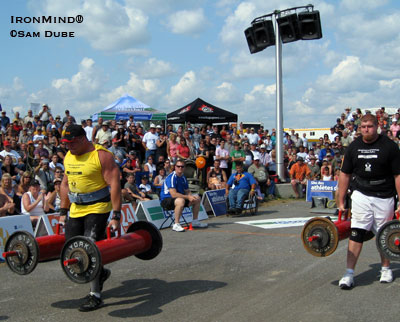 Christian Savoie (left) won his heat with Jonathon Conner (right) in the farmer's walk. IronMind® | Sam Dubé photo.


North America's Strongest Man 2008 - Day 1 Results by Sam Dubé

Featuring beautiful weather and an opening crowd of about 5,000 eager spectators, this year's North America's Strongest Man contest got off to a great start.The tenth and latest incarnation of the world-class strongman show accompanying the annual Gatineau Hot Air Balloon Festival in Gatineau, Quebec, Canada, it features six top Canadian and six top American strength athletes competing in eight events spread over the three days of the Canadian Labour Day weekend. Once again, it was an honour and a pleasure to host our friends from south of the forty-ninth parallel, and we look forward to many future continental competitions. Hopefully it won't be long before competitors from Mexico participate!

The events for Day 1 consisted of the Arm-Over-Arm Truck Pull, the Farmer's Walk, and the Atlas Stones. The first event required the athletes to pull a 15,000-lb. truck from a seated position a distance of 100'. Christian "The World's Strongest Butcher" Savoie, the 2008 Quebec Cup winner, was the only man to finish the course within the 75-second time limit, thus winning the event. Iowa's Strongest Man, 380-lb. Jonathon Conner, and honorary Quebecer Corey St-Clair placed second and third respectively.

The Farmer's Walk had the athletes carrying two 320-lb. implements a distance of 200' with one hairpin turn at the halfway mark. Once again, Savoie blew through the track, winning in under 50 seconds, with defending North American champion Jessen Paulin earning a close second and St-Clair third. Grant "Higa Monster" Higa tore his hand open near the beginning of the course and could not maintain a secure grip thereafter.

The five Atlas Stones weighed 265, 308, 331, 353, and 386 lb., and had to be placed onto 56" ring podiums. In a startling act of revenge, Paulin was the first and only competitor to complete all five stones, doing it in 52.29 seconds. (It should be noted that the only non-Canadian to succeed with this fifth stone was former World's Strongest Man Magnus Samuelsson himself at the North Bay World Super Series contest.) Savoie placed four stones in 27.77 seconds, and former WSM competitor Josh Thigpen of Houston, Texas did the same in 31.43 seconds.

After the three events of Day 1, the current standings and points are as follows:

1. Christian Savoie 35
2. Jessen Paulin 32
3. Corey St-Clair 29
4. Josh Thigpen 27
5. Jonathon Conner 24
6. Ryan Bekke 20
7. Matty Parkes 18
8. Pete Konradt 16
9. Grant Connors 11
10. Jose Plante 10
11. Daniel Frame 7
12. Grant Higa 5

Stay tuned for Day 2 tomorrow!