North American Strongman: National Championships
The sparks will fly in Reno next weekend, when the overall North American Strongman (NAS) heavyweight and lightweight men's champions will be crowned at the NAS National Championships.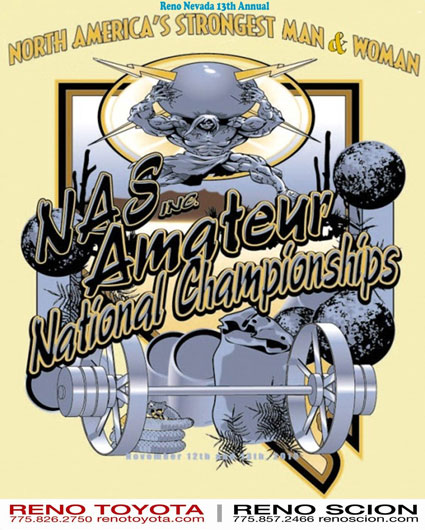 Pro cards, titles, and future invitations are on the line at the NAS nationals this weekend at the Grand Sierra Resort in Reno. IronMind® | Courtesy of NAS.




The men's heavyweight and lightweight winners this weekend will get their ASC pro cards, said Dione Wessels, who runs NAS with her husband, Willie, and who is also president of the American Strongman Corporation (ASC). 

"In addition three divisions of America's best amateur women will compete, along with a separate 175-lb. class. The men will be compete over the course of two days while the women will compete on one day.

"Along with some familiar events such as the IronMind Axle Overhead Press, Yoke and IronMind Sandbag Medley, and the Atlas Stones, we will also reveal new equipment thanks to our newest sponsor, Bigg Dogg Strongg Strength equipment," said Wessels. "Other events will be the Slater Giant Dumbbell Press for repetitions, the Toyota Deadlift for repetitions, Giant Sled Drag Medley with a Keg Load, the Giant Frame Carry and the Dump Truck Pull for distance.

"This is the 13th year for NAS and in 2001 and 2002, many told us it couldn't be done," Dione Wessels told IronMind. "Every year the NAS athletes, staff, and promoters prove many wrong. Now there are other promoters in other countries that vowed never to do anything with the amateurs, promoting amateur contests! I am very happy that others are starting to believe in the grass roots as well.

"Randy, I am excited to see the top women in North America compete alongside the men. There will be about 150 athletes in Reno competing and the top 15 men in the open division will qualify for the Arnold Amateur Strongman World Championships.

"I have witnessed some very good athletes throughout the season and are excited to see them compete against each other in the largest strongman event in the world. Although contests like the national championships are extremely stressful, in the end very worth it and amazing!"

Please check the NAS website for full details.
###


Want to comment on this article or just want to talk strength? Join the IronMind Forum!

You can also follow IronMind on Twitter.