North American Highlander Association Nationals: Cantwell, Wechter, Vincent and O'Brien Win
With "a beautiful, sunny, 80-degree day at the Dino Gym (Abilene, Kansas), the setting could not have been more perfect," D.J. Satterfield told IronMind® : "The inaugural North American Highlander Association nationals are now official and the champions have been crowned."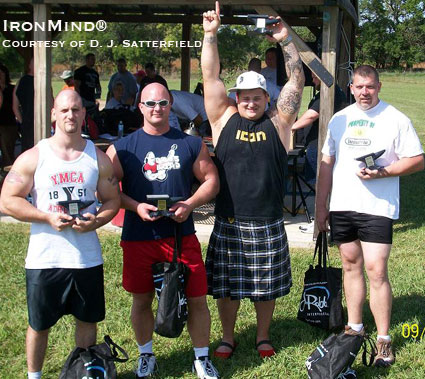 Left to right: Justin Cantwell (lightweight), Mark Wechter (middleweight), Matt Vincent (heavyweight), John O'Brien (masters). IronMind® | Photo courtesy of D.J. Satterfield/North American Highlander Association.


Here are the division winners

Justin Cantwell - lightweight
Mark Wechter - middleweight
Matt Vincent - heavyweight
John O'Brien - masters

"The lightweight division was quite a battle," reported Satterfield, " coming down to the Atlas stones. Justin Cantwell was very consistent in every event. In the middleweight division, Mark Wechter got out to an early lead and was not going to be caught. Mark won 5 of 6 events. In the heavyweight division, Matt Vincent had a dominating performance along with some huge throws. The masters division saw John O'Brien get out to the early lead and hold off all the other competitors in his division," summarized Satterfield.

"All in all, we saw a great display of strength and athleticism, by all athletes. The highlander format, once again, showed the athletes must be proficient in strongman and Highland Games, not just one of them. You must be an all-around strength athlete," Satterfield said.

"North American Highlander Association would like to thank Al Myers, Scott Tully and all others involved in making NAHA Nationals a huge success in just its first year. A special thank you to all the competitors who came out and put on a great contest. The Dino Gym is an incredible facility and NAHA was very thankful for them hosting the inaugural NAHA Nationals," said Satterfield.

Please visit the official North American Highlander Association website for full results.
Also, NAHA founder D.J. Satterfield told IronMind®, "We will be announcing the 2010 NAHA nationals date, location, and [posting an] entry form, in January."