North American Highlander Assocation: Growing Interest, First National Championships
The North American Highlander Association is off to a strong start as co-founder D. J. Satterfeld told IronMind®, "Due to the overwhelming response, the North American Highlander Association (NAHA) has decided to hold its first nationals on September 19, 2009 at the Dino Gym in Abilene, Kansas."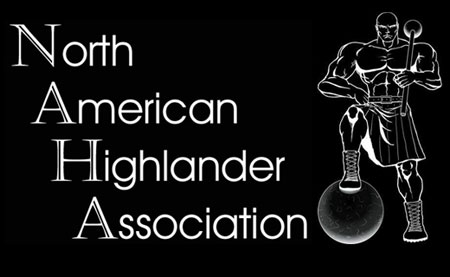 Do you like Highland Games and strongman? Founded by D. J. Satterfeld and Richard Vincent, the North American Highlander Association might be your cup of tea. IronMind® | Artwork courtesy of D. J. Satterfeld.

Explaining how he got started down this road, Satterfield said, "I have competed in powerlifting since 1999, strongman since 2002, and started throwing with my son in Highland Games last year, so I have always been involved in strength sports. Sean Betz had introduced me to the Highlander concept," referring to a unique mix of tradition Highland Games events and strongman events. "We trained together for an upcoming Highlander meet he was competing in in Scotland."

Satterfeld said, "I had the vision of bringing this idea to fruition and starting an amateur Highlander organization. After competing in both sports, I saw that this would be the ultimate test of strength and athleticism. Our sport is perfect for anyone interested in testing their overall strength and ability."

Although Sean Betz is the 2008 Highland Games world champion, don't think you have to be that accomplished to participate because Satterfeld explained that, "There are varying degrees of weights and events available, so anyone from the beginner to the very advanced will have an opportunity to compete. We have everyone from Highland Games throwers, strongmen, powerlifters, track athletes to arm wrestlers involved."

Is the Highlander concept getting traction?

"Since we started the organization in November 2008, we have already put together 10 state chairs, from coast to coast, and have plans for Highlander contests starting in May and running throughout the year. We are very pleased with how everything is going look forward to seeing things continue to grow."

For more information on the North American Highlander Association, please visit the North American Highlander Association website.