"Nobody Has The Right To Own Strongman"
Svend "Viking Power" Karlsen - one of the most recognizable faces and names in strongman - told IronMind today that "nobody has the right to own strongman," as he explained his plans for the 2006 season.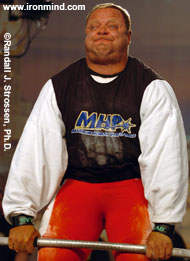 Pulling away on the Hummer Deadlift at the 2005 Arnold Strongman contest: Make the strongman events heavy and Svend Karlsen feels right at home. IronMind® | Randall J. Strossen photo.

Commenting on attempts to monopolize the sport, Svend Karlsen made no bones about his preference for a free market system in strongman, saying, "Nobody has the right to own strongman. We should all be free to go to whichever contests we would like to." Karlsen also explained that he did see the value of establishing a unified annual competition calendar in strongman, so that there would not be schedule conflicts between the top events.

Karlsen said that so far he has invitations to compete in both World Strongman Cup events and World's Strongest Man Super Series events this year, but the only contests he is 100% committed to so far are World Strongman Cup. Karlsen was also quick to say how much he appreciated being invited to the 2006 Arnold Strongman contest, but that he will not be competing in it this year because he would like to give his body a chance to rest and so that he "can build a really strong base."

"This is my longest break from competition in ten years," Karlsen said, "I am weight training for the next eight weeks," the former World's Strongest Man winner said, "and then I will start doing events training as well."

In addition to his focus on the 2006 Norway's Strongest Man contest, Karlsen said he is working with Magnus Samuelsson to put on two Norway versus Sweden team-format meets, one in Norway and one in Sweden.