"No More King of Your Midden Heap"
Invoking a Scottish expression, Douglas Edmunds was quick to praise Zydrunas Savickas and Derek Poundstone, pointing to their performances in last weekend's Arnold Strongman contest as further proof of his high opinion of them.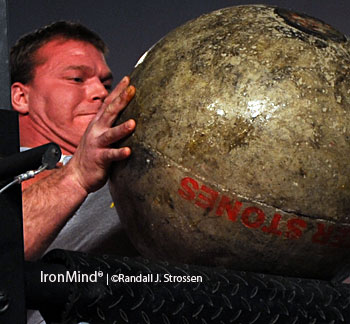 Derek Poundstone shows his stuff on the stones at the 2008 Arnold Strongman contest, where he boosted the already high value of his stock. IronMind® | Randall J. Strossen photo.

"Savickas is the strongest man on the planet," Edmunds told IronMind®. "His six straight wins at the Arnold prove it."

"The Arnold is the real proving ground because it is the only competition that is truly open [to all the top strongmen]," Edmunds continued. "No more king of your midden heap type of thing," said Edmunds, invoking a Scottish saying which would translate into American English as something like, "No more king of your garbage pile," which is Edmunds' allusion to what he sees as pretentious claims in the strongman world.

"Given my 30-odd years in strongman, I'm often asked who was the best ever. It's Zydrunas. He is so strong all-around and winning six in a row at the Arnold is unbelievable."

Also high on Edmunds' list is Derek Poundstone, who made the headlines (again) in the strongman world with his victory over four-time World's Strongest Man winner Mariusz Pudzianowski at the Eleiko WSMSS Mohegan Sun Grand Prix in January, and then came in second only to Zydrunas Savickas at the Arnold.

"He's the best guy from America since O.D. Wilson," Edmunds told IronMind, a compliment that sounded much like Bill Kazmaier's comment to Randall Strossen in the warm-up room at the Arnold this year: "Derek Poundstone is the best American strongman in the last 10 or 12 years," said the Kaz. And for all of Mariusz Pudzianowski's victories, Edmunds said, "Poundstone is better, but Mariusz has more experience."

All of this creates a very interesting opportunity, the possibility of a competition that would bring together this group of three - Pudzianowski, Poundstone and Savickas - in one competition . . . and this is the very idea that Fortissimus would like to consider.

Fortissimus organizing committee chairman Paul Ohl told IronMind®, "Yesterday, at our committee meeting, we chewed up [on] the idea and Mayor Dube", the host of the competition, said that the fans should be allowed to react. We are prepared to invite all the strongman fans to comment and support or not the idea by emailing forticyr@hotmail.com."