Nizami Pashayev Hangs On to Win the 94s
Wladyslawowo, Poland - On paper, the 94-kg class seemed like it would be one of the top classes at this year's European Weightlifting Championships and today's competition lived up to expectations.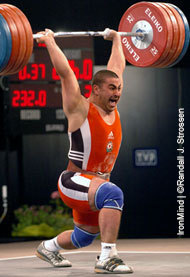 He had to have it and he got it it - Nizami Pashayev (Azerbaijan) fights to keep this 216-kg jerk aloft at the European Weightlifting Championships today. IronMind® | Randall J. Strossen, Ph.D. photo.

This class had a lot going for it, with a field of past, present and - most likely - future stars. Coming off their impressive performances at the 2005 Junior World Championships, Arsen Kasabiev (Georgia) and Andrey Demanov (Russia) are guys to watch and, and while Demanov snatched 170 and then 176 before missing 180 kg, Kasabiev had no such good fortune - missing 167 and then 171, which he repeated and missed again.

Especially because this is Poland, a lot of eyes were on Szymon Kolecki (Poland), the lifter who seemed slated for superstardom a few years ago only to have injuries keep him from lifting the weights that had appeared to be his destiny. The snatch has never been Kolecki's preferred lift, so it wasn't surprising to see him look upward and breath a sigh of relief when he sank the putt on 175 on his first attempt. That turned out to be it for Szymon's snatching tonight, though, because he missed 179 twice. It was almost a foregone conclusion that Pashayev would win the snatch and he didn't disappoint, starting after everyone else was done - hitting 180 on his first attempt, 186 on his second, and then missing 189 when he got under it, but could not fix it overhead.

Kolecki was down 11 kg on Pashaev and he was heavier, but weightlifting fans know that this guy is a clean-and-jerk machine, so when Pashayev missed his first two jerks, things were looking interesting. The run-up to this was that Pashayev had missed 214 on his opener, while Kolecki made fast work of the same weight on his first attempt. Pashayev repeated with 214 and touched the knee on his rear leg to the platform in his unsuccessful efforts to save the lift. After a couple of more attempts, Pashaev was back for his third and it was a do-or-die situation with 216 kg - he fought for it, made the lift, and part of his celebration included kissing the platform. Fast forward a few attempts and Kolecki was out for his second attempt, 219, which was another good lift.

Remember those two young guys? Kasabiev, who had tanked in the snatch, made 210 on his opener, never got his feet going on 216, but then made a tremendous effort to save the jerk with 220 on his third attempt and was successful. And Demanov, who had bombed in the jerk at the Junior Worlds with 204/205, nailed 211 and then 217 before making his bid to overtake Pashaev. Taking 227, all he did was deadlift it, but the thought had been there and the other thought, that Kolecki needed 228 to execute the same plan, had also been in a lot of minds, no doubt. With Kolecki called to come out for the go-ahead weight, the packed hall went nuts and Kolecki jumped from the ground onto the stage, waved to the crowd, and politely bowed out. He might not have taken home the gold today, but his silver medal and 394-kg total showed that he's back.