Nikita Yurkovets: "Captains of Crush No. 3.5—Make it a Double"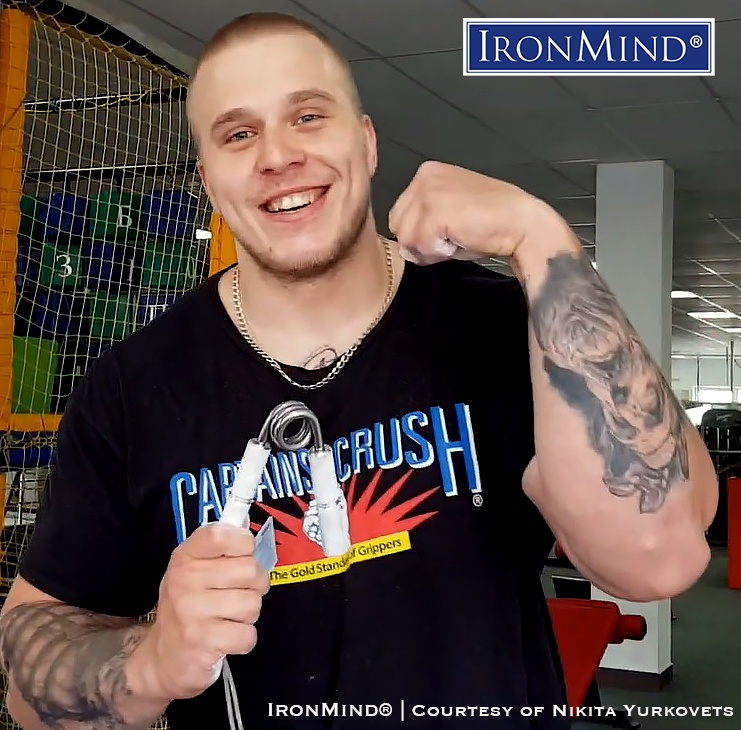 Once again establishing himself as one of the world's top-tier grip competitors, Nikita Yurkovets (Belarus) demonstrated his commanding ability to close a Captains of Crush (CoC) No. 3.5 gripper with either hand.
Yurkovets is among the handful of elite gripsters chasing certification on the Captains of Crush No. 4 gripper, and he has already certified on the CoC No. 3, CoC No. 3.5, and Crushed-To-Dust Challenge and holds the world record for the Rolling Thunder maximum weight pull-up.
Also, speaking of certifications and world records, IronMind has rescinded the absolute ban on Russian and Belarusian certifications and world records until Russian troops have withdrawn from Ukraine, as we have received multiple statements from athletes in both Russia and Belarus denouncing the war, and IronMind feels it's vital to recognize that it's unfair to penalize citizens for what the leaders of their countries do. Anyone officially tied to the war effort, directly or indirectly, will remain on suspension status.
Here's a video of Nikita Yurkovets's stunning performance with the Captains of Crush No. 3.5 gripper.
###

You can also follow IronMind on Twitter, Instagram and on Facebook.
Want to talk grip, strongman, weightlifting . . . everything strength? Visit the IronMind Forum. http://www.ironmind-forum.com