New York Arm Wrestling Association Presents the White Castle Big Apple Grapple
It's the 32nd Annual White Castle New York City Big Apple Grapple International Arm Wrestling Championships, and it's your chance to see, or compete against, some of the world's best arm wrestlers.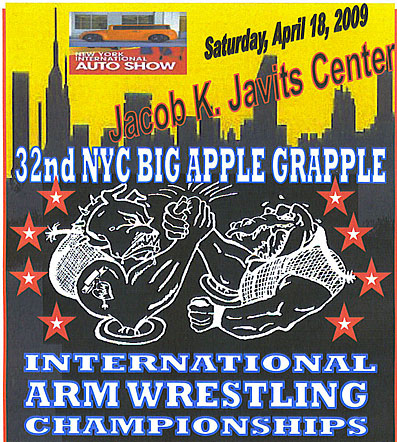 Pull with the best: the Big Apple Grapple. IronMind® | Artwork courtesy of Gene Camp.

"Compete for a chance to be crowned NYC's 'King or Queen of Arms,'" New York Arm Wrestling Association president Gene Camp said, and everyone has a chance to jump in because "competition entry will be open to the public."

With amateur and pro classes, men's and women's divisions, multiple weight classes, and a masters' class, there is something for everyone. Over $5,000 in cash and prizes, and special awards for the Captains of Crush® Grippers King, Queen and South-Arm Champion.

Candida Romanelli, Director of the NY International Auto Show, enthusiastically welcomed NYAWA, saying, "Spectators will have the opportunity to witness incredible feats of strength while touring one of the world's most famous auto shows."

For full details, please check the official New York Arm Wrestling Association website.