New Look, New Features for MILO: A Journal For Serious Strength Athletes
It's a four-time Olympian, a familiar face at world championships in weightlifting, strongman, arm wrestling and Highland Games—it's the quarterly strength journal that is published exclusively for you: the MILO guy.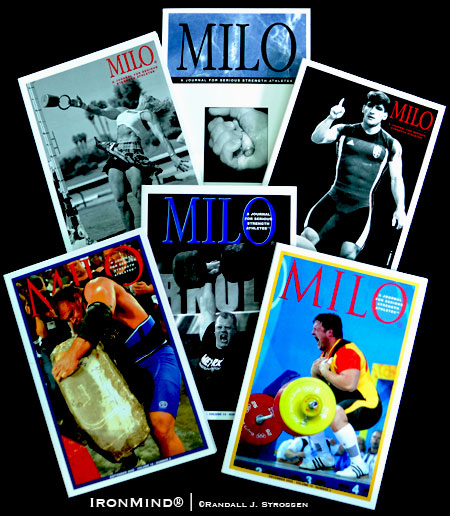 MILO®: A Journal For Serious Strength Athletes is turning 18 and to celebrate, watch for a new look and new features in the first read of strong guys worldwide. Olympic-style weightlifting, strongman, grip, steel bending, Highland Games, arm wrestling, stone lifting and more. IronMind® | Randall J. Strossen photo.


Born in 1993, MILO is celebrating in just the way you'd expect of someone turning 18, so watch for a new look and some new features beginning with the June issue.

Have a question and want to hear what an expert has to say? Maybe you wonder about how, when and why to use a hook grip, or whether the dive style might be for you, or maybe you're curious about the history of your favorite Highland Games implement.

"Send your question to milo@ironmind.com and look for the reply in an upcoming issue of MILO," said production assistant Susan Altman. "Only MILO gives you access to the top names in the field of Olympic weightlifting, strongman, Highland Games, grip training, steel bending, arm wrestling, and more!

"Got a great photo to share? Something you find inspiring while you're perspiring? Something that captures the essence of a moment, whether it is from a competition or a training session, or is a candid shot of your favorite athlete?

"Photos must be previously unpublished original work, with permission released to MILO/IronMind for use in an upcoming issue. While your children and pets make cute subjects, such photos will not be considered. Send your high-resolution (300 dpi) jpeg to milo@ironmind.com, with the subject 'Photo Entry.' Images may be color or black and white, but please note the final photo is most likely to be printed in black and white. Our editors will choose their favorites, to appear in upcoming issues of MILO."

###



Want to comment on this article or just want to talk strength? Join the IronMind Forum!

You can also follow IronMind on Twitter.