New Hampshire Highland Games: Top Field
Talking about this weekend's New Hampshire Highland Games at Loon Mountin, Bill "Doc Rock" Crawford told IronMind, "We anticipate a heated competition between Matt Vincent and Daniel McKim along with many other top Scottish Heavy Athletes."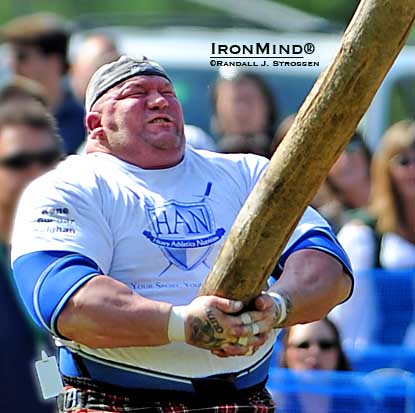 Gerard "The White Rhino" Benderoth is among the big names coming to Loon Mountain this weekend for the New Hampshire Highland Games. IronMind® | Randall J. Strossen photo.


"Mike Zolkiewicz will also be in attendance and we are always anxious to see what big Mike can come up with for the weight over bar."

Here is the official start list for the professional class:

Matt Vincent
Daniel McKim
Sean Betz
Hans Lolkema
Craig Sinclair
Dave Barron
Will Barron
Aaron Neighbor
Matt Doherty
Rob Hamelin

"We will also feature a top Masters field, that includes Gene Flynn, Alistair Gunn, Mike Baab, Dirk Bishop, Mike Dickens, Gerard Benderoth, Dan 'Red Rage' Dillon, Scott Depanfilis, Myles Wetzel and Hapy Mayer.

"The Masters have always been able to come up with at least one Masters world record each of the last 5 years and let's see if that streak continues," Dr. Crawford said.

###

The IronMind Forum: discuss this article, talk strength, get help with your training.

You can also follow IronMind on Twitter.