Mu: Gold Medal, World Record
Doha - The prize here was bragging rights as the strongest women in Asian weightlifting, which is to say the world, because in the last couple of years, the world championship title has come down to the duel between Jang Mi Ran (Korea) and Mu Shuangshua (China) . . . the two favorites in this class.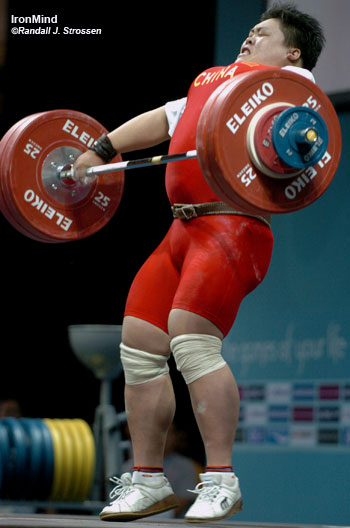 Mu Shuangshuang finishes the pull on her 139-kg world record snatch at the Asian Games today. IronMind® | Randall J. Strossen, Ph.D. photo.

Jang Mi Ran, who came into the 2006 Asian Games as the world and Asian record holder in the snatch at 138 kg, opened first, with a routine 130 kg. Mu, who outweighed Jang by nearly twenty kilos, shadowed her and hit an easy 131 for her first attempt. The bodyweight point is especially important for this pair because in both the 2005 and 2006 World Weightlifting Championships, Jang has edged out Mu for the gold on bodyweight.

The same pattern prevailed in the second attempts: Jang nailed 135 and Mu followed with 136. Now, the time had come for the final, serious attempts and Jang once again led the way, calling for 139 kg in an attempt to break her Asian and world records. She ripped up the bar, but sent it over her head and now it it Mu's turn at the same weight, which she made, so she went into the clean and jerks with a four kilo lead, as well as the Asian and world records in the snatch.

Mu got things rolling in the clean and jerk with an easy 167 first attempt, followed by Jang doing the same with 171, to move past Mu for the early lead. Mu went next, with a good 174, to recapture the lead, and then Jang answered with 178 to leapfrog over her. Mu pushed the stakes up higher when she made 178 on her third attempt - this good lift forced Jang to take 182 for her third attempt - equal to her own Asian and world record in the clean and jerk - in a bid for the gold medal. She cleaned the weight strongly, but sent the jerk over her head. Mu ended her six-for-six day with the gold medal and a world record. Mu totaled 317, Jang had 313 for the silver medal and Annipa Moontar picked up the bronze medal with her 265-kg total.