Mr. Olympia: Let Your Fingers Do the Talking
It's back - the GNC Grip Gauntlet, run by Blobmaster Wade Gillingham, is on for this year's Mr. Olympia, so if you're going to be in Las Vegas and think you've got strong hands, or just want to have some fun, stop by the GNC booth.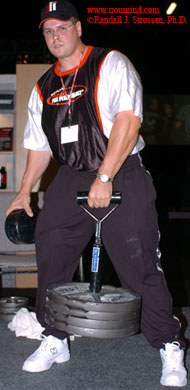 Wade Gillingham does an easy (for him) double at the GNC Grip Gauntlet at the 2004 Show of Strength (Atlanta, Georgia). Come on Wade, at least pretend it's hard to do. IronMind® | Randall J. Strossen, Ph.D. photo.

The GNC Grip Gauntlet has become a celebrated event at the major bodybuilding-fitness shows around the country and why not? With ace grip guy Wade Gillingham there to show that it really can be done, as he demonstrates time and again, thousands and thousands of people have gone hand to hand with these three bedrock tests of grip strength: Captains of Crush® Grippers, Rolling Thunder, and the Blob.

Open to all to try, it doesn't matter if you strike out or hit a homerun, because you'll have fun while seeing just how strong your hands really are.