More on Farzad Mousakhani
Omid Amiri, ISA and Asia Strongman Federation president, continues to tout his athlete, Farzad Mousakhani, a man who he said is aiming to win both the 2008 IFSA World Championships and the 2008 World's Strongest Man contest.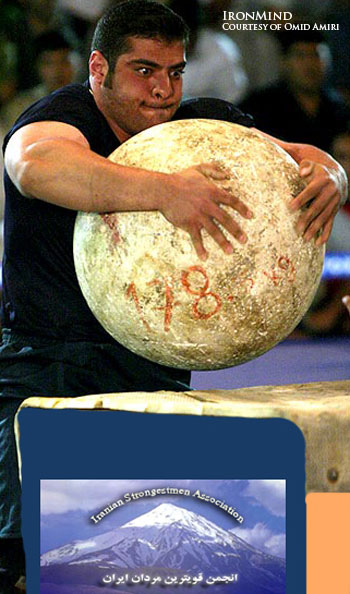 Iran's Farzad Mousakhani: Will he be a major force on the professional strongman circuit in 2008 or will this prove to be wishful thinking? Certainly, there is no doubt whatsoever that his countryman Hossein Rezazadeh is the strongest weightlifter in the world, so Mousakhani lives in the right neighborhood for producing big numbers. IronMind® | Photo courtesy of Omid Amiri.
IronMind® has no independent confirmation of Farzad Mousakhani's performances other than his win at Vlad Redkin's recent contest, but insiders will be quick to point out - correctly - that the field in that competition was not the same as you would find at either the IFSA World Championships or at the World's Strongest Man contest.

Omid Amiri told IronMind® that Farzad Mousakhani has broken all of Mariusz Pudzianowski's records in such events as the Stones, Farmer's Walk, Deadlift and Log Lift, but once again, we have no additional details on this or any corroborative information.

Omid Amiri has requested that Farzad Mousakhani be considered for the 2008 Arnold strongman contest, and Terry Todd, who runs this contest for Jim Lorimer, is aware of this interest and will be making the decision as he assembles the field for the 2008 Arnold.