More Mas Wrestling USA: Worlds Qualifier
There's no moss growing under the feet of Mas Wrestling USA—coming off their midwestern debut at the Arnold, they're gearing up for a worlds qualifier at the San Jose FitExpo on July 13.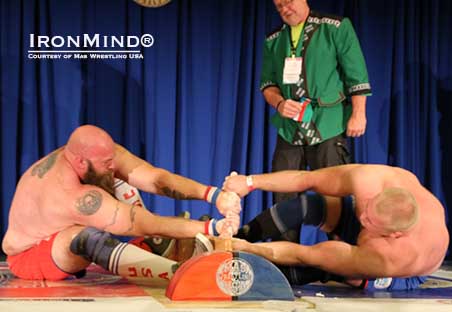 Mas wrestling was a big hit at the Arnold earlier this month: "Every match was contentious," said Mas Wrestling USA president Odd Haugen. Pictured are Clay Edgin (left) and Markus Mannik (right), with Odd Haugen refereeing. Mannik was the overall winner and Edgin was third place overall. IronMind® | Photo courtesy of Mas Wrestling USA


"We have six spots for the world championships—men, women, any weight class—the best six will be qualify," Mas Wrestling USA president Odd Haugen told IronMind.

Long a fan of both fighting and strength sports, Haugen said that he's long been looking for the right combat-type strongman event and mas wrestling fits the bill—directly pitting one competitor against the other and it's also what he sees as "the single best test of functional strength."

More than that, Haugen said he sees a television future for mas wrestling because "it's easy to understand, exciting, dramatic and very explosive."

Meanwhile, mas wrestlers and their fans, mark your calendars: the 2014 San Jose FitExpo will host a mas wrestling clinic on July 12, with the world championships qualifying tournament on July 13.


###

Want to talk strength? Join the IronMind Forum.

You can also follow IronMind on Twitter and on Facebook.