Modern Times Weaken Bulgarian Weightlifting
Yoto Yotov is 37 years old and he recently won the Bulgarian National Weightlifting Championships - most guys would be ecstatic to have done this, so why isn't Yotov?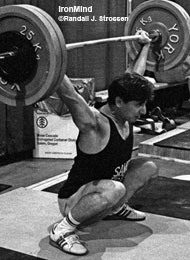 Here is Yoto Yotov as a young lifter, shown in the training hall at the 1990 Goodwill Games. Lifting for the powerhouse Bulgarian weightlifting team, Yotov was a silver medalist at the 1992 and the 1996 Olympics, and he collected piles of medals in European and World Weightlifting Championships. Yotov won the 76-kg class at the 1997 Worlds, where he snatched 165 kg and cleaned and jerked 202.5 kg. IronMind® | Randall J. Strossen, Ph.D. photo.

Competing as a 94-kg lifter, Yotov snatched 152 and cleaned and jerked 190 kg for the title, he told IronMind®, but he dismissed the win, saying "This is nothing." And while those lifts would win national titles, or be close to it, in most countries, in the heyday of Bulgarian weightlifting, you would expect the winner to have snatched about what Yotov cleaned and jerked.

"This is a big problem," Yotov said. "Never had this happened in Bulgaria in 30 years."

The source of this outcome, Yotov explained, is the changing economic conditions: twenty years ago, if a young man had talent and became a weightlifter, he got "good food, sleep, everything," but now, there is nothing unless he somehow becomes a champion, and then he gets some additional money.

These days, Yotov laments, there are "not so many training," and the quality level, he said, has also declined as even among the relatively few who are still drawn to weightlifting, many are "not so strong." Facing these limitations, but still wanting to field a team, Yotov explains that the coaches do not have a lot of options.

A couple of decades ago, said Yotov, the coaches might have had 50 lifters and from them, they would select a 10-man team, but now, they might have five lifters and are trying to produce an eight-man team. What they have to work with, Yotov says, is "only this."