Misha Koklaev and Zydrunas Savickas Tie at SCL-Poland
"It has happened only once before in SCL history that two athletes have been in in same points and same places in events," Ilkka Kinnunen told IronMind today as Misha Koklyaev and Zydrunas Savickas tied at SCl-Poland last weekend.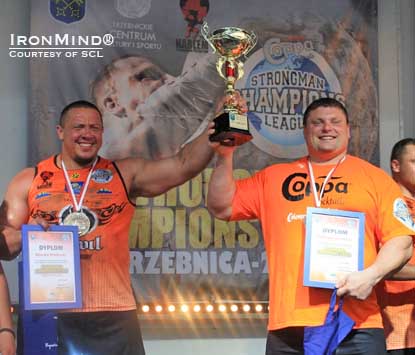 Misha Koklyaev (left) and Zydrunas Savickas (right) shared top honors at SCL–Poland. IronMind® | Photo courtesy of SCL.


"In 2010, SCL–Ireland Terry Hollands and Zydrunas Savickas shared the top position and now in Poland Misha and Zydrunas [did it, too]. Again, unbelievable battles all the way to the end.

"Over 5,000 cheering people and in sunny, warm (+32c) weather, 12 strongman athletes started their first event. 420-kg Yoke Race (with a distance of 34 m). Top three were: 1) Mateusz Baron (Poland) 24.38 sec, 2) Krzysztof Radzikowski (Poland) 28.19 sec and 3) Misha Koklyaev 29.47sec.

"Next up was the Forward Hold with 12.5 kg in each hand. This was the Savickas show: He did new world record time of 1.19:43 Krzysztof Radzikowski was second with a time of 1.06:34 and and Mateusz Baron was third with 1.02.

"The third event was the Keg Toss Medley. Total of 8 kegs weighing 2x16 kg, 2x18 kg, 2x20 kg, 2x22 kg. The bar was in 5m high. The winner was Savickas with all kegs in time of 17.13 sec; second was Koklyaev with 20.04 sec, and third was the new Latvian star Dainis Zageris with 24.69 sec.

"The Log Medley was the fourth event with a 160 kg log, 95 kg Dumbbell two times and a 180-kg log. This was something that everyone was waiting for: huge weights in medley with top pressers. The winner was Koklyaev doing all four lifts in a time of 26.99 sec. Savickas was second with a time of 27.03 sec, and third was Radzikowski in 30.47 sec. These were only ones who did all the lifts.

"5th event: 160-kg Farmer's Walk (20 m) and 420-kg Tire Flip (3 flips). The course was slightly uphill which made this event extremely difficult. The winner was Sebastian Kurek (Poland) in 33.88 sec; Koklyaev was second (36.43 sec) and Savickas was third (38.81 sec).

"The last event was the Atlas stones: 120 kg, 140 kg, 150 kg, 160 kg, 170 kg. Coming into the last event Savickas had only a one-point lead against Misha. Both wanted to win the SCL Poland and were loaded to full energy for the stones. Misha was faster, winning the stones in time of 20.26 sec, Savickas was second (21.04 sec), and third was Mateusz Baron (24.86sec).

"What a competition: a lot of great fights and close times. Big thanks for the city of Trzebnica and the Polish organisation for an excellent job done," said Kinnunen.

Here are the official final scores for the top six.
| | | |
| --- | --- | --- |
| 1. | Misha Koklyaev | 64.0 |
| 1. | Zydrunas Savickas | 64.0 |
| 3. | Krzystof Radzikowski | 55.0 |
| 4. | Mateusz Baron | 53.0 |
| 5. | Sebastian Kurek | 51.0 |
| 6. | Dainis Zageris | 41.0 |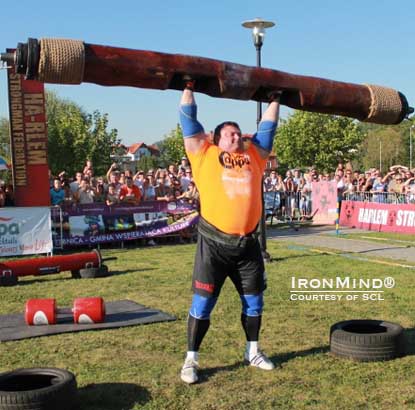 Zydrunas Savickas handles the 180-kg log in a shoulder power medley at SCL-Poland. As mighty as Big Z is on pressing events, Misha Koklyaev won this medley. IronMind® | Photo courtesy of SCL.

###

The IronMind Forum: discuss this article, talk strength, get help with your training.

You can also follow IronMind on Twitter.