Mikhail Koklyaev Scheduled for Surgery
Very popular Russian strongman Mikhail Koklyaev is scheduled to undergo surgery for his torn biceps on Thursday.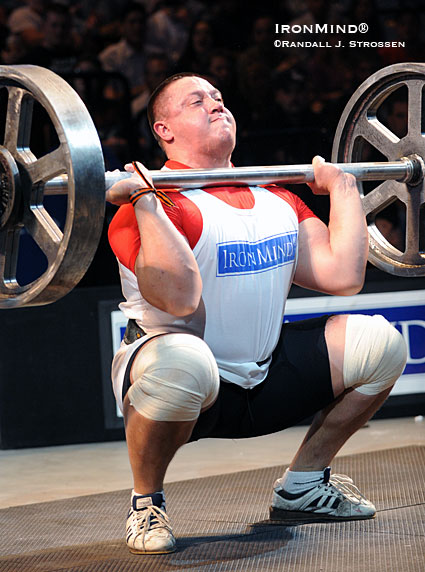 Putting his Olympic-style weightlifting background to good use in a strongman contest, Mikhail Koklyaev squat cleans the IronMind® Apollon's Axle™ at the recent Giants Live competition held at the Mohegan Sun. IronMind® | Randall J. Strossen photo.


Coming off a solid performance in recent strongman competitions and with more than one insider picking him for the podium at the 2009 World's Strongest Man contest, Mikhail Koklyaev tore his biceps almost one week ago and has undergone the preliminary examination before his scheduled surgery "in a specialized sports hospital." In addition to his strongman competitions, Koklyaev was in heavy training for the Russian Weightlifting Championships next month, where he would have been a favorite to win the +105-kg category title yet again.

IronMind® has been told that assurances of a successful outcome have been given by the expert medical team treating Koklyaev, and in addition a skilled surgical crew, he will have the backing of strongman fans worldwide when he hits the operating table later this week.