Mike Pockoski Wins the Stonehaven Highland Games
Mike Pockoski won the Stonehaven Highland Games on Sunday with barely enough time to catch his breath between landing in Scotland and hitting the field.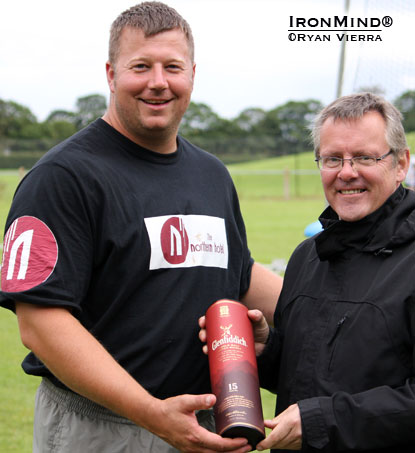 Overall winner at the Stonehaven Highland Games Mike Pockoski receives a fitting award from Glenfiddich representative David Massy. IronMind® | Ryan Vierra photo. IronMind® | Ryan Vierra photo.


2011 Stonehaven Highland Games
by Francis Brebner

Mike Pockoski took the overall win at this weekend's Highland Games in Stonehaven, Scotland.


After having arrived from the States on Friday and participating in a rugged competition on Saturday at the Balloch Highland Games against some of Europe's best professional athletes, Pockoski looked more refreshed at this Sunday event.

The Stonehaven Games is the sixth in the Glenfiddich–Grampian Games League circuit and had a fair lineup of heavy athletes, including top Scots Bruce Robb, Bruce Aitken, Craig Sinclair, Sinclair Patience, and Stephen King; U.S. athletes Sam Grammer, Mike Pockoski, Ryan Vierra, and Rusty Price; and France's Amine Amroun.

IHGF representative for France Jean-Louis Coppet, from Bressuire, brought the team of French athletes, including Amroun, to compete for the first time in Scotland at the Lochcarron Games on Saturday, followed by Stonehaven Games on Sunday.

In the 16-lb. shot Pockoski took the win over Price with a distance of 50' 2-1/2"; Price was second and Robb third.

The 22-lb. shot was won by Price at a distance of 45' 4"; second place was Pockoski and third place Robb.

The 16-lb. hammer was won by Pockoski with a throw of 131' 9"; second place was Grammer and third place Price.

In the 22-lb. hammer, Pockoski dominated with a throw of 108' 11"; second place was Sinclair and third place Aitken.

The 28-lb. weight-for-distance was an exciting event as Scotland's Sinclair let rip with a huge throw of 87' 8" for the win, with Patience in second place and Pockoski in third.

In the 56-lb. weight-for-distance, the tables were turned with Price taking the win with a distance of 37' 11", followed by Robb in second and Vierra in third.

The caber toss, with a caber 19' and 115-lb., ended in a tie between King, Grammer, and Pockoski, all of whom nailed 12:00 tosses.

The 56-lb. weight-over-bar was won by Grammer at a height of 16'. The second-place tie was between Price and Pockoski. Pockoski was the overall winner of the Games.

###

The IronMind Forum: discuss this article, talk strength, get help with your training.

You can also follow IronMind on Twitter.