Mike Jenkins: Lost His Job Going to WSM
In a story that sounded like something from the days of amateur athletics, top strongman competitor Mike Jenkins lost his job going to the World's Strongest Man contest.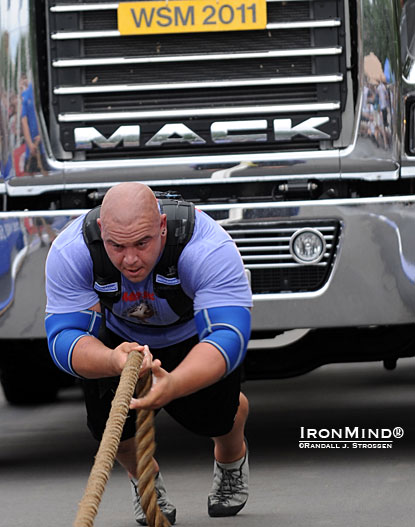 Mike Jenkins got off to a flying start at the 2011 MET-Rx World's Strongest Man contest. IronMind® | Randall J. Strossen photo.


"I worked at a private school for court committed youth as a Health/PE teacher," Jenkins explained. "I was out of paid time off from other contests and was not granted unpaid time to go to World's [Strongest Man]. I tried to explain the magnitude to my superiors but it obviously did not work.

"I was just a little shocked because I was a outstanding employee who had no problem at all building positive relationships with the kids at the school, some of whom do not have a single positive influence in their life let alone being able spend time daily with a teacher that has two college degrees, played college football and is now living out a dream.

"I think a little positive influence in the lives of these kids who are at a crossroads in their life to go the 'good way' or the 'bad way.' When it boils down to it I think it was people in charge just making a point, but that is neither here nor there!

"The decision was easy for me: I knew I would not be at the school twenty years from now, but if I did not go to WSM I would kick myself twenty years from now for passing up a chance like that!"

"My last week of work, having already been forced to resign, I got an email via Facebook from a parent of one of my students (a 16- year old boy with a infant and another on the way), saying how much of an impact my presence in her son's life has made simply from the few hours each day I had him. I informed her of the situation and have been in touch since to try and mentor him away from school," Jenkins said.

###

The IronMind Forum: discuss this article, talk strength, get help with your training.

You can also follow IronMind on Twitter.